By Charlotte Brontë, adapted by Willis Edward Hall. Therry Dramatic Society. Arts Theatre Adelaide. 17th - 26th August 2017
Most of us are familiar with Jane Eyre, written in 1847. Many, as I did, studied this sweeping narrative by Charlotte Brontë in school. Partly autobiographical in nature, the story is tinged with pain and personal experience of the harsh life in England's institutions of this time. The story was developed into a stage production by Willis Edward Hall, with its first performance in Sheffield in 1992. More recently, the play was re-worked for a National Theatre production.
This beautiful adaptation brings to life this much-loved classic novel, losing nothing of the raw starkness of life in this period and the trauma which Jane experiencesin its depiction.
The staging of this particular production, directed by Megan Dansie and produced by by Therry Dramatic Society, is confronting and highly emotive. Whilst there are no grand sets for the various familiar institutions and buildings, we follow the story in a stark world, built simplistically on stage, but evocatively in our minds.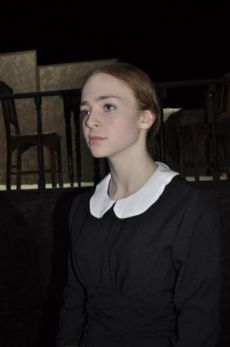 Jane Eyre tells the story of an orphan girl raised in the North of England. Mistreated and bullied as a child, she is sent to Lowood, a school for orphaned girls, where she continues to experience cruelty, but forms a connection with Helen Burns, a schoolmate. Sadly, her one friend dies of consumption. She eventually becomes a teacher at Lowood and later, as a governess, is summoned to Thornfield Hall to educate Edward Rochester's French ward, Adele. Jane finds a home here and falls in love with the master of the house, only to find that he has a secret, while an ominous presence in the house threatens her future happiness.
The two leads in this production do a sterling job in bringing their characters to life. Zanny Edhouse is a newcomer to Adelaide theatre. In the title role, she blasts onto the stage in a focused and driven performance, growing in maturity from a ten year old girl to an eighteen year old governess. Her Jane is strong and stoic and she certainly understands subtext and possesses great strength in her still moments. Steve Marvanek, as Edward Rochester, likewise has a strong stage presence and his version of Rochester is commanding. Whilst both actors have wonderful intellectual exchanges, I found it difficult to see a developing momentum in their emotional connection. I felt there was little chemistry and warmth that demonstrated why Jane would fall for a man so gruff and so much older than her.
Jane Eyre is very much an ensemble piece and there is not one weak link in this group of talented actors.
The use of a Greek chorus made up of general cast to narrate Jane's thoughts is very effective. All are excellent in their multiple roles, but some deserve special mention. Ashley Penny shows herself to be a very watchable and versatile actress, playing multiple ages and characters. I felt her Adele, in particular, with her youthful joy, was beautiful to watch.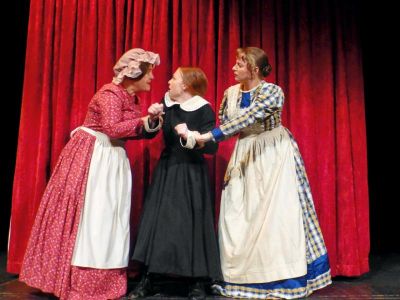 Sue Wylie again demonstrates her ability to inhabit a character and develop meticulous accents. Brad Martin, likewise, shines on stage in his varying roles, but his St John is formidable.
A standout performance however, in the ensemble, comes from Kate Anolak, a brilliant actor who, even when moving set, is fully in character and draws your attention. Her pompous dowager is an absolute delight.
The set, by Malcolm Horton and Megan Dansie, is an effective two- level design and cleverly disguises a full-sized piano. Colouring is earthy and stark, reminiscent of the Yorkshire moors. The use of stools and simple props enhance the school and home scenes well. My only criticism would be some flies were noisy and furniture clunky on opening night but these issues should be ironed out as the show proceeds.
Lighting by Richard Parkhill adeptly captures the mood of bleak England in the period and is unobtrusive and at times quite subtle. The fire scene lighting is most effective.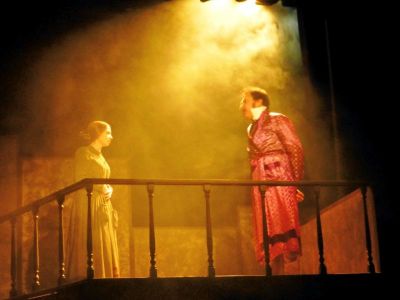 Costumes by Sandra Davis are meticulous - authentic and colour appropriate. Dressing Jane in black and grey complements the mood well.
There is interesting use of sound effects by Hugh Hunkin and the beautiful onstage choral singing brings moments of light to the drama.
Overall this production is well paced, stark, true to the novel and uncluttered in its presentation. Whilst quite emotionally restrained in terms of the romance aspect of the story, it builds tension well and is poignant and at times quite funny.
For lovers of Brontë's beautiful classic Jane Eyre, this is a must see.
Shelley Hampton