By Jeff Wayne and Doreen Wayne, adapted from HG Well's science fiction story. Directed by Ron Dowd. SUPA Productions. ANU Arts Centre. 12 – 27 October 2012
This show is a big, gaudy, colourful, old-style over-the-top progressive rock concert based on an 1898 story, set to classic 1970s music and illustrated with 2000s CGI animation, and Supa's production does it plenty of justice. Director Ron Dowd has a history taking on ridiculously ambitious rock spectaculars, like Tommy in 2003 and The Wall in 2007, and he's pulled this one off.
The production, for those unfamiliar with it, is more a theatrical rock concert than a traditional musical. Taking up the majority of the stage are 18 rock and classical musicians. The narrator is spot lit in a corner, and the actors then have fairly small space to work in, largely without props. As such the joint stars of this show are really the fabulous music and the CGI graphics. Supa's coup was to get licence to use the original CGI file from the production that toured Australia in 2007. While it's very well done with beautiful composition and colours, digital animation has moved on in the last five years and the graphics showing their age, especially enlarged on the big screen where just about every pixel is visible. I had the misfortune of sitting next to a cynical fifteen-year-old game addict, who said it would make a good late 1990s point-and-click adventure. That was a bit harsh, and I don't think the quality detracted from the show, because the imagery is gorgeous and ties back to the 1970s graphics of the original album. It is all about sci-fi and rock nostalgia, after all. There was one fairly major glitch in the running of the animation – apparently it had run perfectly in all the rehearsals only to hiccough on the opening night – but you'd assume that will be a one-off!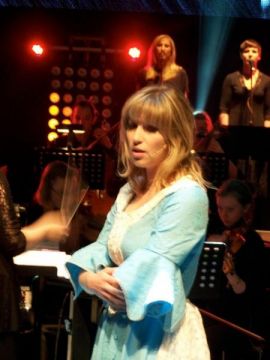 Supa has done a fine job with high production values making this a fantastic show. The music is great. The mixing could use a touch of tweaking: the volume's a bit much for the venue leading to a little distortion and the voices are being slightly drowned out. That said, the musicians and vocalists are talented enough to overcome any balance issues. Roy Hukari, in the lead as George Herbert, is just as riveting as he was in last year's production of Blood Brothers, nailing the classic single Forever Autumn. Joseph Mcgrail-Bateup does a great stand-in for Richard Burton as the narrator, and Simon Stone, Steve Herczeg and Sarah Golding are all very good. Max Gambale, as the artillery man dreaming of creating a new society underground, has a jaw-dropping vocal range, strength and emotional presence.
Consensus in this household (including from the 15-year-old cynic) is that the lighting, music and staging were "awesome". It's a fabulous opportunity, not just for aging boomers and Gen Xers to revisit their youths, but also for anyone of any age who didn't get to experience one of these epic prog rock conceptual concerts the first time around.
Cathy Bannister