Music: Frank Wildhorn. Book & Lyrics: Leslie Bricusse. Concertworks. Hamer Hall, Arts Centre Melbourne, 25 & 26 October & Darling Harbour Theatre, ICC Sydney, 2 November, 2019
The 25th Anniversary concert performance of Jekyll & Hyde drew a capacity and highly appreciative crowd in Hamer Hall.
Players from the MSO in pared-down orchestral ensemble - under the confident and stylish direction of Vanessa Scammell - deftly crafted the fraught, gothic atmosphere demanded by Frank Wildhorn's music. Although the instrumentalists took up much of the Hamer Hall stage, their musical presence and ensemble with the singers - as the vocal performers roamed over a series of catwalks, platforms and staircases - was impeccable.
The story of Jekyll and Hyde, about the intriguing duality of human nature, is very well-known, so it was up to the performers to find an engaging take. Victoria Horne's sumptuous costumes and Jasmine Rizk's striking lighting design were noteworthy in creating the Victorian world of Jekyll & Hyde. Chris Parker's direction, working within the limits of the concert format, had the singers constantly in motion, adding a twist of inevitability to the descent into murderous violence as the show unfolded.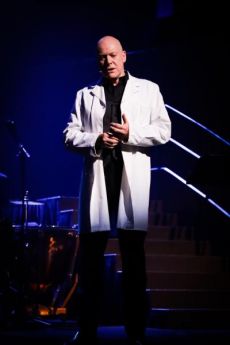 Anthony Warlow as the doomed and desperate Jekyll and the degenerate Hyde, did not disappoint. He showed an intense devotion to the role, and his ability to deliver songs such as "This is the Moment" and "Confrontation" was electrifying. Warlow also included such small touches as writing with a different hand depending on which character was "driving" at that moment. His portrayal of Hyde was particularly good, delivering one-liners as he casually brought character after character to an untimely end, that were horrifyingly funny.
Amanda Lea Lavergne turned in a competent performance of a largely thankless role, Jekyll's fiancee Lisa; although at times her singing was a little too over-wrought, and her accent occasionally meandered across continents before settling on RP English.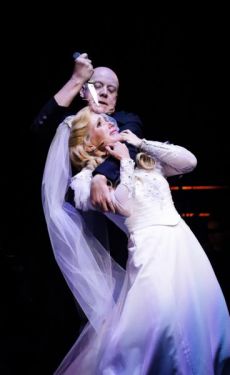 Martin Crewes as Jekyll's lawyer and friend John Utterson, Peter Coleman-Wright as Lisa's father and Jekyll's champion, Sir Danvers Carew, and Alex Rathgeber as the officious Simon Stride, Secretary to the Hospital Board, were all rock-solid in the execution of their roles, and it was a pleasure to watch them perform. Particular mention must be made of Suzanne Johnston's hilarious turn as the acidic and perpetually-offended Lady Beaconsfield. She is so good in the role, that when Hyde comes to deal with her, his murderous rampage turns personal.
John Wood, Troy Sussman, Stephen Mahy and Thern Reynolds provided sterling work in supporting roles, and the four members of the general company were likewise excellent, especially with the luxury of the top notes provided by the newly-minted Herald-Sun Aria winner, Georgia Wilkinson.
But for me the standout performance was Jemma Rix as Lucy: her singing was powerful and tender by turn, infused with a healthy dose of ribaldry as she delivered "Bring on the Men" at the Red Rat. Rix lived Lucy's helpless fascination with both Jekyll ("Sympathy and Tenderness"; the stunning duet "In His Eyes") and with Hyde, and the unique power dynamic between them ("Dangerous Game"). Rix brought a steadfastness and a touch of nobility to Lucy, who faces her doom unflinchingly. Jemma Rix more than earned her share of the standing ovation at the end of the performance.
Alex Armstrong
Images courtesy Phoebe Warlow Photography