Book by Marshall Brickman and Rick Elice. Music by Bob Gaudio. Lyrics by Bob Crewe. Dodger Theatricals, Rodney Rigby and TEG-Dainty. Capitol Theatre, Sydney. Opening Night: September 6, 2018.
The Jersey Boys musical has made a return to Sydney a decade after it first opened here and the show still packs a punch.
The story of Franki Valli and The Four Seasons - four American teenagers with police records who moulded themselves into one of the best selling music acts of all time - is a riveting 'rags to riches' yarn.
All their hits are in the show "Fallen Angel", "Sherry", "Big Girls Don't Cry", "Oh What a Night", "My Eyes Adored You"and more.They are performed with high energy by a great cast who well deserved their standing ovation on opening night.
Marshall Brickman and Rick Elice's book has snappy clever dialogue with jokes about the mafia dominated Jersey neighborhood the group grew up in.
The big hook of this show is that unlike some musicals most of the characters have many sides to them and the story is based on real life. Each of the Jersey Boys gives us their own version of the group's rise to fame and ultimate bust up.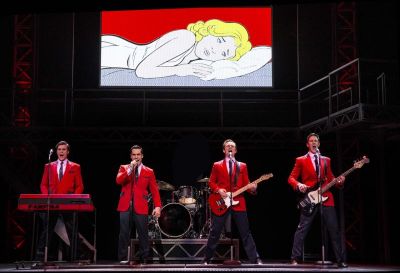 The four leads of Franki Valli (Ryan Gonzalez), Tommy DeVito (Cameron MacDonald), Bob Gaudio (Thomas McGuane) and Nick Massi (Glaston Toft), are backed by a good supporting cast of wives, girlfriends and music industry wheeler dealers. The women's roles in the show are minor, but the story is after all about four men.
Well directed, great choreography and a quirky Kiara Zieglerova set with large industrial frames and projections of real 1960's television audiences on either side of the stage for scenes set in television studios and pop art cartoons projected behind some of the action add to the appeal.
A must see.
Jamelle Wells
Photographer: Jeff Busby