Music: Bob Gaudio. Lyrics: Bob Crewe. Book: Marshall Brickman & Rick Elice. Dodger Theatricals, Rodney Rigby, TEG Dainty, Joseph J. Grano, Pelican Group, Michael Watt, Tommy Mottola in association with Latitude Link and Anita Waxman. Director: Des McAnuff. Musical Director: Luke Hunter. Choreographer: Sergio Trujillio. Lyric Theatre, QPAC, Brisbane. Opening Night: 5 January 2019.
Jukebox musicals may come and go but Jersey Boys is still the gold standard. Five years after the original Australian season ended, the story of Frankie Valli and the Four Seasons is back in Brisbane again in a new highly-polished production. With a cast of new and old faces, this doco musical with more than a touch of The Sopranos about it is still a fantastic blast of 60s doo-wop heaven.
Growing up in Mob territory in New Jersey, the early back story of the boys shows them rubbing shoulders with the local crime boss, sharing prison time with their neighbourhood pals, and trying to find a vocal sound for their group. Not until Valli joins them do they begin to make inroads and it's his signature falsetto that does it.
The first act follows their spectacular rise to popularity with "Sherry", "Big Girls Don't Cry" and "Walk Like a Man", juxtaposed with the stress of touring, wives left at home, and uninhibited partying on the road. The darker second-act shows the disintegration of the group, mountainous debt, and the death of Valli's daughter at twenty-two.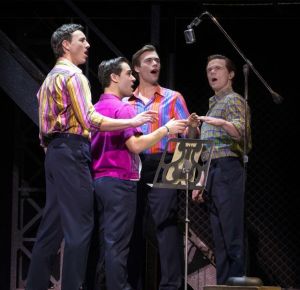 The thing that impresses about this production is the vocals and the razor-sharp musical direction by Luke Hunter. Time and time again the distinctive harmonic sound of the group brings the audience to their feet.
Diminutive Ryan Gonzales is a stand-out Valli, the naïve Italian street kid whose voice is his ticket out of the 'hood.' It was a dramatically secure portrait of a man whose handshake values are his life's ethos. Pretty boy newcomer Thomas McGuane was an astute Bob Gaudio, the brains of the outfit, whilst Glaston Toft made a welcome return as Nick Massi, a role he played throughout the original tour for four years. But it was Cameron MacDonald's Tommy Devito that provided the spine. A big-noter who's his own worst enemy, it was a layered and rich performance of basically an unlikeable character.
Although the female roles are mainly background (after all this is the boys' story), Cristina D'Agostino worked exceptionally well as Valli's put-upon wife Mary, and with Mia Dabkowski-Chander and Mackenzie Dunn as The Angels singing "My Boyfriend's Back". Glenn Hill essayed Bob Crewe's sass with arch flamboyance, Josh Mulheran's Joe Pesci was a ball of dynamite, while Enrico Mammarella's gangster Gyp DeCarlo appropriately turned on the tears and got multiple laughs when Valli sang, "My Mother's Eyes".
This production is as good as any I've seen and that includes Broadway. 60s pop nostalgia has never been more exhilarating!
Peter Pinne
Photographer: Jeff Busby.