By Andrew Lippa and Tom Greenwald. Sidetrack Theatre. Sydney Fringe. September 20 – 24, 2011.
Got an embarrassing sibling, or a soccer (baseball) mum?
Someone you just love to hate?
You'll find plenty to identify with.
John and Jenis an affecting two-hander musical following the story of Jen (Naomi Livingston), and her relationship with the two Johns in her life, her brother, subsequently killed in Vietnam, and her son (Edward Grey). At the core is the guilt Jen carries at going to college, leaving her brother in an abusive home.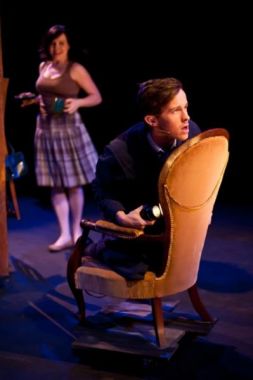 Very recognisable human comedy and drama are well presented in this clean, minimalist Sydney Fringe production.
John and Jenis the first musical composed by Andrew Lippa, whose Addams Family score will be heard here in 2013.
The clear strength of the production for me, apart from excellent singing by two talented emerging performers, was the focus and drive of the storytelling, which really maintained audience involvement. Livingston and Grey give moving and engaging performances, with nicely balanced light and shade, more than compensating for any weak points in the script.
The only real lag comes with an excessively long interlude between the two sections, featuring a battlefield soundscape, which did nothing to enhance the production.
Spirited musical direction and accompaniment from Issac Hayward and his three-piece band, with Hayward's infectious enthusiasm at the keyboard apparent, supported impressive singing performances.
John and Jen has been given a simple, uncluttered staging. While probably essential on a Fringe production, it seemed very much the right choice.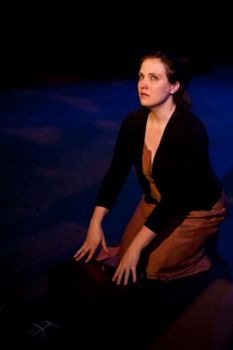 There's a strong WAAPA influence, with Edward Grey and Naomi Livingston performing, and performers from major musicals - director Benjamin Giraud (currently appearing in Mary Poppins) and choreographer by Stephanie Grigg (currently appearing in Love Never Dies) - taking the creative reins.
This production is playing at Sidetrack Theatre, the home of New Musicals Australia, which is becoming quite a hub for young musical theatre producers and a burgeoning indee musical theatre scene.
On opening night, while the sound was basically well-balanced, there seemed to be some niggling underlying sound issues, not surprising given the tight bump-in / tech restrictions of Fringe productions. Still, it was only a minor distraction in an enjoyable production, rich with rising talent.
Neil Litchfield
Photographer: Kerry Fluhr.
To keep up with the latest news and reviews at Stage Whispers, click here to like us on Facebook, or follow us on Twitter.