De Parel Spiegeltent, Woodside Pleasure Gardens, Russel Square, Northbridge, WA. Feb 15-16, 2020
Jordan Anthony is a fifteen year old Perth musician who had an epic 2019. The youngest male in the eighth season of The Voice, Jordan, the final competitor in Team Delta, reached the Final 4 in the competition. Later in the year, the Australian Broadcasting Corporation selected Jordan as Australia's representative in Junior Eurovision. Jordan performed for Australia in Poland last November.
]Jordan performed two shows on the final weekend of FringeWorld and I was fortunate to join the largely preteen and teen audience to hear this very talented, highly personable young man perform live. Performing with a live band - Keshet on guitar, Johan Bower on bass and Keyan Bell on drums, Jordan performs a mix of covers, especially those familiar from his rounds on The Voice, with original material, including a different incarnation of his best-known original work, his Eurovision song "We Will Rise".'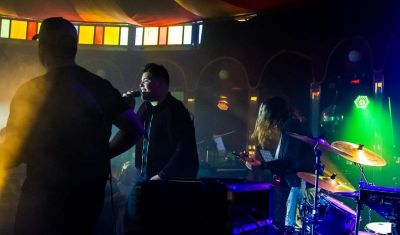 Songs are interspersed with Audio Visual presentation by Sam Rabbone, which charts Jordan's experiences over the last twelve months. There is a lovely interchange between the AV and the live singing. Jordan also allows his audience to get to know him a little better, and reveals that one of his most recent songs was created while on a full day school detention, a punishment that he says was warranted because he made a bad decision, for which he needed to take responsibility. A great role model for his young fans, Jordan also talks openly about being bullied, and his reservations about returning to school after his absence for The Voice.
His voice, as many know, is amazing, and continues to get stronger and stronger. This is probably even more notable live - he is also becoming a very confident, very open performer who connects beautifully with his audience.
As someone who sees a lot of performances in Perth, I have been watching Jordan for much longer than the past year, and have been thrilled to see his success. Wonderful to see him succeeding with a top notch solo show.
Kimberley Shaw
Images: Amanda Humphreys Photography