Music by Andrew Lloyd Webber. Words and Lyrics by Tim Rice. Packemin Productions. Director: Neil Gooding. Parramatta Riverside Theatres. Feb 11 – 26, 2011.
It makes so much sense to stage a pro-am production. Cast a name in the lead to attract extra bums on seats and allow the cast to benefit from working with a professional.
It rarely happens because the people who run amateur theatre companies do it because they enjoy being on stage themselves.
Packemin Productions Producer and Director Neil Gooding had no compunction about casting professionals.
Barry Crocker as Jacob, Mick Gerace as Pharoah and Andrew Conaghan as Joseph led a cast bursting with enthusiasm.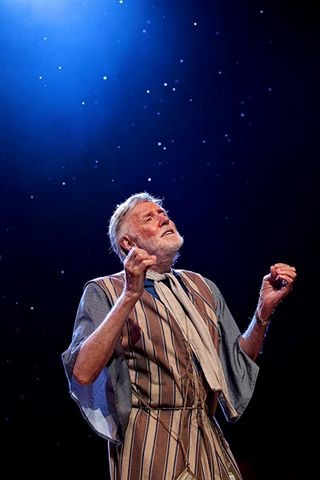 The title Packemin applies to the audience and the cast. When the curtain opened it seemed like every youngster in western Sydney was on stage.
Joseph is at its heart a fun but simple piece of musical theatre which dips into a range of musical genres. If it was written today it wouldn't be taken seriously.
A passionate performance by Andrew Conaghan gave this production some heart. I particularly enjoyed his rendition of "Close every Door to Me." And when he revealed to his brothers that he had become the 'Prime Minister' of
Egypt and would spare their lives I must admit to feeling a tinge of emotion.
A neat set from Simon Greer, tight choreography from Katrina Gooding, generally good music and some beautiful lighting from Sean Clarke also helped make the performance excellent family entertainment.
The stand out non-professional performer was the narrator Jocelyn O'Brien.
And special mention must go to the appearance of a 'camel' which looked suspiciously like it had been borrowed from a high profile nativity scene in a neighbouring suburb.
Or perhaps those protesters in Egypt had sent it down the Suez Canal to
Parramatta?
David Spicer