By Andrew Lloyd Webber and Tim Rice. Roo Theatre, Shellharbour (NSW). 10-25th January, 2014.
Every so often a production comes along that truly stands out from the crowd. Roo Theatre's Joseph and the Amazing Technicolor Dreamcoat takes that statement and runs away with it. In a region that is jammed packed with theatre (both community and independent companies) there does seem to be an underlying current to 'out-do' each other. The team and cast behind this production have come firing on all cylinders, and in turn, do come out on top.
The first musical written by theatre dream team Andrew Lloyd Webber and Tim Rice (Evita and Jesus Christ Superstar), the musical is based on the ancient biblical story of Joseph and his coat of many colours.
The production is led by Joshua Harrison in the title role and Louise Tonge as the Narrator. Harrison fits the role of Joseph to a tee. His vocals, acting and stage presence are that of a well-gifted performer. From the moment the curtain parts slightly for the first glimpse of the character to sing one of the most popular songs in musical theatre 'Any Dream Will Do' you are completely drawn in. This is only bettered later on in Act One when Harrison tackles a haunting performance of 'Close Every Door' where the theatre is filled with a spine tingling experience of music and incredible vocals of the whole cast. In the role of the Narrator, Tonge is a pleasure to watch. Her charismatic performance draws the audience into the show and you hang off her every word.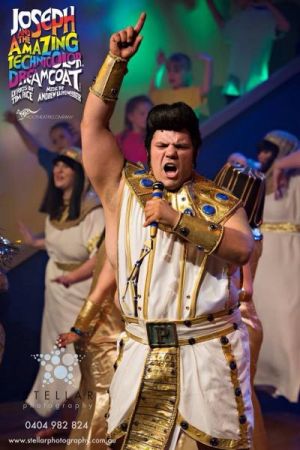 Daniel Stefanovski as Pharaoh was well cast, but sometimes hard to understand in his low register. His portrayal of this Elvis type character was well executed and very amusing. The 11 brothers gelled so well together that it is impossible to single any of them out, of course, the 3 with solo songs (Nathan Jankowski, Damien Ryan and David Rienits) were fantastic, but together they all worked so well off each other and were very entertaining. The wives and children were great with their own dancing and vocals and added immensely to the show.
The staging of the numbers was dealt with imagination and finesse. Some notable songs include, 'Joseph's Coat', 'Go-Go-Go Joseph', 'Song of the King' and my personal favourite of this production, 'Those Canaan Days'. However, just when you think things can't get any better, we are treated with a high energy mega-mix complete with a techno beat – which is just incredible. Special mention needs to be made of the fantastic 14 piece orchestra led by musical director Lisa Baraldi.
When the curtain first opens, there is a massive 'Wow' factor with a simple yet very impressive set design. This set is a star in its own right and works so well with the flow of the show. The Pharaoh set is reminiscent of a Las Vegas show and works very well with the character of Pharaoh. Costume designers Jo Knight and Melissa Jones have created a spectacular array of garments, from the ratty clothing of the brothers to the pristine uniforms of Egyptians. Another highlight of this production is the exciting lighting, I am yet to think of another show I have recently seen that can match the standard of this design.
As soon as the famous first notes of music start, you are completely drawn in and forget completely that you are watching an amateur production. Director Juran Jones has created a first class production that exceeds all expectations. It is evident that he and his team have put a lot of time and preparation into this show and it pays off big time. I have seen many productions at Roo Theatre over the years and 'Joseph' is one of the best! The flow of the show was sharp, the vocals were engaging, the music was superb, the costumes, set and lighting were brilliant.
A 5-star production.
Dean Matthews