By David Hare. Directed and designed by Jason Cavanagh. Co-director Celeste Cody. Lighting designer Rob Sowinki. Presented by Mockingbird Theatre. Theatre Works until March 22, 2014. (Vic.)
David Hare's searching drama about Oscar Wilde's very public fall from grace, holed up in a London hotel awaiting arrest to face of a charge of gross indecency (Act 1) and his despair in both poverty and exile in Naples after his release from two years imprisonment (Act 2), is a mighty, flawed jewel of theatre literature.
Hare casts a conveniently wide net over his subject, ranging in everything from class, privilege and opportunism to pederasty and victimhood. When the play opens with two hotel staffers making love in the room that is shortly to become Oscar's, it soon becomes clear that the only people who are going to be having any fun tonight are the ones with absolutely nothing to lose.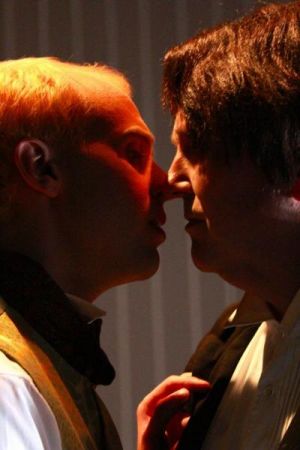 In the first act, Wilde is given an opportunity to leave his young lover Lord Alfred 'Bosie' Douglas and flee London in order to evade arrest. In the second, he is encouraged to leave Bosie again and return to London. Hare, infuriatingly, has a bet each way on whatever it might have been that motivated Wilde, and the play's significant flaw is that we are none the wiser about the playwright's intentions by the time it finally ends.
When first performed in 1998 with Liam Neeson as Wilde, (somewhat inexplicably other than he, too, is Irish), the play was not as successful as it would become in 2012, in a revival directed by Neil Armfield with Rupert Everett in the leading role. In The Judas Kiss, as history has proven, the casting of Oscar Wilde is everything – and in Chris Baldock, we have a perfect incarnation. Baldock is simply mesmerising, and in the play's punishing second act when he is cruelly confined to a chair, he is even better. The temptation for an actor to show off in this magnificent role must be overwhelming, but Baldock is in complete control – emotionally, vocally and physically – all night, which only makes Hare's ill-defined assumptions about what motivates him even more difficult to respect.
As Wilde's ex-lover, and now wise counsellor, Robert Ross, Oliver Coleman is superb. Coleman's terribly British rigidity is broken only momentarily, in a divine moment, when Ross believes that Wilde is making an attempt to rekindle the intimacy they once shared. It is a brilliantly acted moment. Everyone is changed by the events of the first act, but Coleman's brittle, Machiavellian Robert is revealed to be as damaged as Oscar. He has, if it were possible, become more rigid and immovable, and Coleman's command of the role is absolute.
History, like Hare's script, has been unkind to Bosie, and the potentially great, unwritten scene between Bosie and his Uncle (who is negotiating offstage for Oscar's opportunity to escape the impending conviction), deflates the drama significantly. With so little to work with, Nigel Langley is excellent. Like Baldock and Coleman, Langley refuses to succumb to the easy choices, and the scene in the second act where he curls up at the feet of Wilde for the slightest moment of respite and affection is as close as The Judas Kiss ever comes to revealing what it might have been that bound these two men together through such gruelling public humiliation.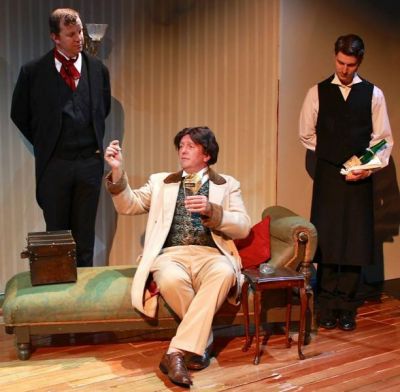 Lauren Murtagh creates a gorgeously beguiling young Phoebe, the hotel staffer, while Soren Jensen is excellent as Sandy Moffatt, the hotel manager, who steers the whole mess of interpersonal contradictions that power Act One with aplomb. Zak Zavod's marvellous staffer Arthur, is a delightful performance. Flirtatious, enigmatic and omnipotent, one is left with the sense that if anyone is going to do well out of this life, it's going to be this resourceful young man. Nores Cerfeda is perfect as the Italian fisherman Galileo, in whose company Bosie finds respite from the rat-infested hotel room where he and Oscar are staying.
Cavanagh and Cody have done an outstanding job honouring this work, and this splendid ensemble – beautifully lit by Rob Sowinksi – have obviously been delivered to the stage with immense confidence in their craft and their performances.
There is much to contemplate after witnessing a creative undertaking on this vast scale from an independent theatre company, and Mockingbird Theatre are to be commended to taking it on, and winning.
Geoffrey Williams
Photography by Celeste Cody.