By William Shakespeare. Bell Shakespeare. Directed by James Evans. Heath Ledger Theatre, State Theatre Centre of WA, Perth. 8-11 August 2018
Bell Shakespeare's Julius Caesar touched down in Perth, a month into its Australian tour which concludes in Sydney in November. A modern dress production, simply staged, it is very much focused on the language, fascinating characters and Shakespeare's exploration of leadership.
The smallest of Shakespeare's title roles is played by an actor very familiar to Perth audiences, Kenneth Ransom, who was based in Perth for many years. While his stage time is quite brief, he makes his presence felt as an affable, likeable and relaxed leader, his power more evident in a giant poster that dominates the stage during the first half - an almost biblical image of a powerful leader.
Ivan Donato is impressive in the largest role, as a picture-perfect Brutus. Portrayed with depth, Donato captures Brutus' internal conflict well. Co-conspirator Cassius, is given nuance by Nick Simpson-Deeks.
Ghenoa Gela is a breath of fresh air as Casca, with a lovely attitude and wonderful presence, getting most of the laughs of the show. She also doubles as Messala. Cross-gender casting works nicely throughout, with Neveen Hanna playing three very different roles well, Emily Havea beautifully embodying boyish bravado as Octavius (she also played Calphurnia) and Sara Zwangobani absolutely nailing Mark Antony's lengthy but emotive speeches.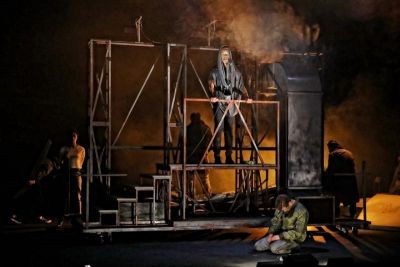 No less impressive are Jemwel Danao's Metullus and unfortunate Cinna the Poet, Maryanne Fonceca's lovely portrayal of Portia, and Russell Smith's double of Decius Cinna and Lucilius.
Designer Anna Tregloan's costuming is subtle but meaningful, and her transformative billboard, come orator's platform, come a myriad of places set is both practical and clever. Verity Hampson's lighting design is far beyond what we expect in a whistle-stop touring show, with very vivid and striking choices. Nate Edmondson's sound design is very dramatic, with composition that is bold and almost imposing at times.
A rare opportunity to catch one of Shakespeare's less often performed works, with this thoughtful, strongly acted incarnation from Bell Shakespeare.
Kimberley Shaw
Photographer: Prudence Upton.