By Donna Abela. Griffin Theatre Company. SBW Stables Theatre – Feb 14 to March 29, 2014. Merrigong Theatre Company – April 2 – 5.
Informed by her Maltese background, Donna Abela has written a witty and endearing snapshot of what it means to be second generation Australian. Such alternative takes on Australian identity, a "new multiculturalism", appeared on our stages in the late 1980's. It's good to see them back!
The difference perhaps is the ambitious, poetic storytelling structure with which Abela, not always successfully, takes us on the journey of young Sophie.
An aspiring archaeologist, Sophie has alienated her angry Jordanian mother Mara by leaving home and living with an Aussie girl. Only later do the family learn Sophie and Sam share the same bed as well! Meanwhile, Sophie's wonderfully petulant bogan sister Loren (Sheridan Harbridge) is having the big wedding and the "Mad Arab" Aunt Azza arrives from Jordan.
With Pip Runciman's domestic set dominated by a pile of earth, Jump for Jordan is an archaeological dig by Sophie into her past and that of her parents, a parade of memories and discovered objects, leading to a Middle Eastern tale of war and displacement.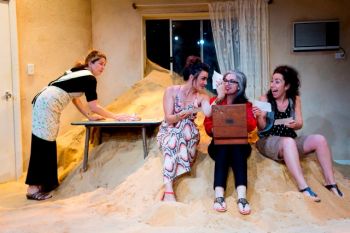 While it's evocative to see that tale seep into an Australian domesticity, the frustration of Mara and the homeland realities she shared with her then young husband Sahir remains generalised and ambiguous. Doris Younane and Sal Sharah are nevertheless, like all the cast in their roles, entirely true as Sophie's immigrant parents – even if I didn't realise the contented older Sahir was actually dead until well into the play!
Despite such blurs in the journey, Alice Ansara is delightfully gauche as the enquiring if apprehensive Sophie; and Anna Houston truthful and engaging as Sam. Camilla Ah Kin is also charismatic as the modern if culturally connected Jordanian aunt.
Director Iain Sinclair negotiates some awkward story architecture to deliver a play which is memorable, funny and tender.
Martin Portus
Images: (top) Alice Ansara and Sheridan Harbridge & (lower) From Left Doris Younane Sheridan Harbridge Camilla Ah Kin and Alice Ansara. Photographer: Brett Boardman.