Based on the stories by Rudyard Kipling. Darlington Theatre Players. Directed by Shelly and Luke Miller. Marloo Theatre, Greenmount, WA. Nov 17 - Dec 9, 2017
Shelly and Luke Miler's directorial debut, for Darlington Theatre Players, is a lavish production with a cast of 33. Not an easy task for a first community theatre show.
The look of this show is amazing. Owen Davis' set is a stand-out, featuring an impressive, climbable tree with peepholes for people and puppets, as well as lovely portable set pieces - including a village of huts, Monkey City and Pride Rock, all with fabulous attention to detail. Marjorie De Caux's costumes, both human and animal, are Indian influences and lovely to look at.
Lukas Steinwandel is very likeable in the central role of Mowgli. He is a solid performer, with a gorgeous classical voice. Younger (Baby) Mowgli is played by Lukas' 7 year old brother, making his community theatre debut. He is absolutely adorable.
Charlize Gosnell is strong as Mother Wolf - with beautiful vocal work. She is nicely partnered by Guy Jackson as Father Wolf. Suzy-June Wakeling is an admirable Bagheera, while Ryan Perrin is a strong Baloo - both figuratively and literally as he swings multiple monkeys around and lifts Mowgli with ease.
Villainous Shere Khan - The Tiger is played with power by Paul Reed, while Benedict Chau is clearly delighting in his role as the jackal Tabaqui.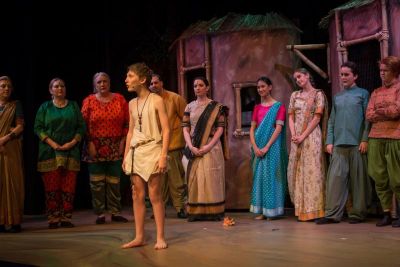 Some strong performances among the villagers - including the outstanding vocal and emotional performances of Georgia Unsworth as Messua (Mowgli's mother) and Tiana Aitken as love interest Neela. David Seman brought authority to Buldeo, while Joshua White and Molly O'Hehir made intimidating village bullies.
There were a plethora of community theatre debuts including the mesmerising Michaela Tholen as Kaa, and the centred Gloster Guest as Akela. Welcome additions to Community Theatre include masterful monkeys Taya Cicanese, Tahli Redgwell, Katelyn Barr, Kaitlyn Saunders and Hana Sakane-McLelland, delightful Wolf Cubs, Levi Jackson-Guest and Liam Miller and villagers Lily Valverde, Julie Payne and Jen O'Hehir.
A lovely commitment to storytelling emanated from all cast-members and Rachel Vonk's choreography was well executed.
While there were some impressive vocal performances, well trained by musical director Kiran Podmore, from a challenging score - some of the group numbers were unbalanced and unblended. Commitment was good and it was great to see everybody singing.
It was a pleasure to see this classic tale brought to family audiences, with love, energy and enthusiasm.
Kimberley Shaw