Adelaide Cabaret Festival 2019. The Blue Room – Adelaide Festival Centre 13-14 June, 2019
Kaye Tuckerman's Broadway Bound (But Not Gagged) was one of the best shows I have seen, not only at this year's Adelaide Cabaret Festival but one of the very best so far for this entire year. I have written a rather lengthy review for this show, partly because, for many, the extremely talented and gracious Kaye Tuckerman is not as well known as others. Furthermore, her one-woman show has more to say and is more insightful about the reality of being a contemporary professional working actress in New York than anything I have recently seen.
Kaye Tuckerman hails from the Northern Beaches in Sydney, is a graduate of WAAPA and NIDA, and is one of the most electrifying Australian Music Theatre artists that we have now lost to the lights of Broadway.
This 75-minute cabaret show is a piece of engaging 'confessional drama', covering Kaye Tuckerman's beginnings in amateur musicals to appearing in a Broadway musical. She begins from the back of the Blue Room, making her way slowly to the stage, directly engaging and flirting outrageously with her audience as she sings the provocative (and very difficult) "Raise the Roof" from Andrew Lippa's The Wild Party. It was a thrilling beginning to a terrific evening in the theatre.
The song she chose to exemplify her beginnings in amateur theatre was "Corner of the Sky" from Stephen Schwartz's Pippin. This was a perfect choice as it sublimely expressed that unique moment when an future professional actor experiences working in the theatre for the first time, discovering that her actual "Corner of the Sky" is in the theatre – a place where 'dreams' can come true.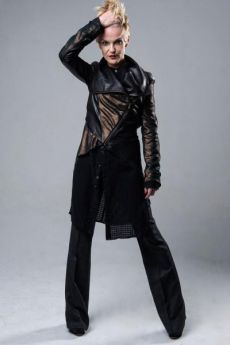 The importance of 'dreams' was furthered and strengthened by the next song – the Eurythmic's "Sweet Dreams (Are Made of This)". Kaye's initial 'dream' – to be a professional actress - led her to being trained at both WAAPA and NIDA.
After graduating and a few years in Australia and overseas she headed to New York to begin a new life in pursuit of her 'dream' – to be in a Broadway show. The song she sang to represent this wonderful and awfully big adventure? "New York, New York" by Kander and Ebb, of course.
It was, however, from this point that Kaye Tuckerman's show took on a wonderful poignancy. She quotes Australian playwright and mentor Nick Enright in how in a life in the theatre there are "good times, and bad times, but they are always interesting times". Six weeks after she arrived in New York the talented Ms Tuckerman hit 'good times' and scored one of the leads in the Broadway National touring company of Mamma Mia. So, of course, in this Cabaret Festival show she does a medley of ABBA songs from Mamma Mia. This was a big hit with the audience I was with, people jumping up, dancing and singing along with Ms Tuckerman as she moved through her audience.
In many ways, however, the Mamma Mia! sequence marked the climax of the relatively 'good times' reflected in Kaye Tuckerman's show. After six months the reality of doing a thorough US national tour of one show for two years in different theatres, sometimes with very little time between cities, began to take its toll. Six months before this contract finished one of Ms Tuckerman's leading men committed suicide.
This shocking announcement produced an audible gasp from the audience; understandable, as it was a surprise, and this kind of thing is virtually never mentioned nor discussed in the 'razzle-dazzle' of 'show-biz', not only in the US but also here in Australia and elsewhere.
The song that Ms Tuckerman chose to exemplify and express this tragedy was Bob Telson's "Calling You" from the film Bagdad Café. Many people have done this song, but not in this particular context. This was beautiful, poignant and extremely moving.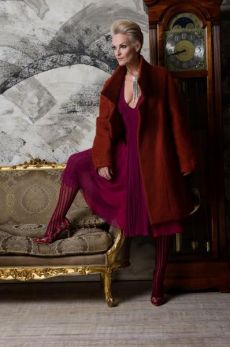 After the Mamma Mia! tour finished Kaye Tuckerman returned to New York, still pursuing her 'dream' to be in a Broadway show. For this period, she sang, "On Broadway". She successfully auditioned and got a major role in the new 'Broadway bound' Donna Summer: The Musical. However, as Kaye Tuckerman stealthily leads us to the climax of her show with Peter Allen's "Don't Wish Too Hard", sometimes your wish can turn into a nightmare – and this happened.
She was dropped from the show. The song she sung to express her feelings at this time was Nick Cave's "Little Water Song". This was perhaps the least known song in this show, and yet it was the most powerful. There was a depth, poignancy, and sublime tragic quality in Kaye Tuckerman's performance.
Nonetheless, she did eventually return to this show and appeared on Broadway – her dream fulfilled. The final songs in this sequence were Carol King's "Beautiful" and Donna Summer's "Last Dance". The joyous and life-affirming aspect was furthered by the great Janis Joplin song "Get It While You Can", which had the audience cheering for more.
The strength, resilience, determination, and self-reliance displayed and performed by Kaye Tuckerman was inspirational, and I am very glad that I had two of my young Musical Theatre students there to experience this beautiful insightful journey and what it is really like to be a professional actor in New York.
Very highly recommended.
Tony Knight
Photographer: Kurt Sneddon