By William Shakespeare. TheatreiNQ Company (formerly Shakespeare Under the Stars). Director: Terri Brabon. Designer: Brendan O'Connor. Townsville 18 - 29 September.
Arriving at the stately gates of Queen's Gardens at dusk and walking along flame-lit paths to the performance space, members of the audience could easily believe that they had entered another time and place for the performance of "King Lear" by THEATREiNQ.
Director Terri Brabon assembled an accomplished and talented cast who rose to the challenge of presenting this classic Shakespearian tragedy in an open-air setting.
Brabon was successful in maintaining the clarity of plot and sub-plot through astute direction and effective dove-tailing of scenes.
Veteran actor John du Feu gave a commanding performance as the aging king whose clarity of purpose is clouded by his need for the professed love of his daughters. Du Feu successfully portrayed Lear as a domineering father whose spiritual cleansing is achieved only through his own suffering which pushes him beyond the boundaries of sanity. The physical and mental decline of the old man was handled with sensitivity and skill.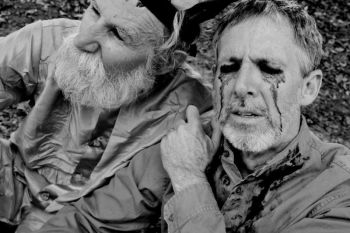 Terri Brabon as the selfish and ruthless Goneril and Arminelle Fleming as the vindictive Regan gave convincing performances throughout. Anna Wallace presented the role of Cordelia with an air of simple honesty and truth, which made her an endearing Cordelia.
Brendan O'Connor as the unfailingly loyal Earl of Kent delivered another outstanding performance.
Strong performances were also given by Michael Gleeson (Edmund), Brian Edmond (The Fool) and Bernie Lanigan as the Earl of Gloucester.
The costumes, although somewhat suggestive of Medieval style, seemed designed to suggest status rather than era; however use of colour successfully symbolised groups and allegiances.
Brendan O'Connor has produced a visually interesting and functional set which is reflective of a 'Mad Max' movie. Predominantly black and cleverly lit, the set conveyed the timeless impression of a castle fortress with well-appointed entrances and exits that allowed the scenes to flow seamlessly from one to the next.
Director Terri Brabon has demonstrated once again that she has a particular knack for presenting Shakespeare in a way which is clear and engrossing for old and young alike. The final tableau created a breath-holding silence which was finally broken only by the enthusiastic applause of the audience.
Donna Ahlers