By William Shakespeare adapted by Ivo van Hove. Adelaide Festival. A Toneelgroep Amsterdam Production. Directed by Ivo van Hove. Festival Theatre, Adelaide. March 10 - 13, 2018
Why would you want to watch four and a half hours of Shakespearean history plays in Dutch? Well anyone who saw The Roman Tragedies would tell you that the creative vision of Ivo van Hove married to the superb actors that make up Toneelgroep and the use of Shakespeare's storylines and insights is a powerful combination and one not to be missed. Van Hove and Toneelgroep's Kings of War is a re-interpretation of Shakespeare's history plays stretching from Henry IV to Henry VII. It does not disappoint, though it does not quite match the extraordinary Roman Tragedies.
Kings of War is about leadership and power and how little we have learned from history as we see Kings from the past played in a modern setting that deliberately links the rulers of the 14th and 15th centuries to present day leaders. Van Hove does this in a variety of ways. Richard III mentions leaders such as Trump and Putin by name as he calls them on his coloured telephones, Henry V's famous speeches are delivered in the style of Blair via TV to bring the citizens on board with going to war. There are political assassinations by injection and strangulation. Technology is used to provide video-conferencing, radar projections and maps are constantly being automatically updated. And all the time decisions about countless lives are being made at many levels removed from the general population in locked and 'safe' war rooms and in the corridors surrounding the epicentres of power.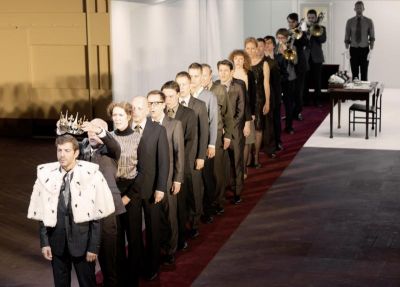 The set of Kings of War, designed by Jan Versweyveld, is fundamental to the overall vision. The set is divided into two areas; the main stage is the war room and behind this, out of sight of the audience, is a hidden maze of white corridors. Ivo van Hove's production and Versweyveld's design play with the idea of "corridors of power". The seemingly innocuous hallways that the audience can only see via camera are of equal importance to the main stage and war room. These passages are the place where the paths of the ambitious, power-hungry men cross; where we catch glimpses of the people affected by the decisions and whims of the kings and their counsellors. They become the trenches before battle, antiseptic hospital corridors with kings or potential kings about to die waiting on trolleys, a bloody mortuary stacked with the aftermath of war, or the imaginary landscape of a king who would rather be a shepherd and where snatched sexual encounters and terrifyingly cold murders take place.
The audience catches whispers and glimpses of the plots hatched, the plans made, the despair and the relationships that are born in the corridors through the eye of the camera, and played out on a big screen on the stage. This gives the audience a voyeuristic sense of "Big Brother is watching you". And while the main action would seem to be happening in the corridors, the huge stage on which Kings operate is almost depopulated by comparison, isolated and protected from the real world.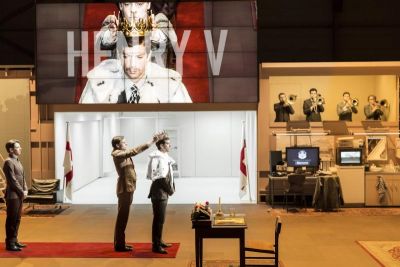 Yet no set, script or concept will be successful without the skill of the players presenting it and the seventeen actors in this production were superb. Henry V played Ramsay Nasr is the strong leader, the teenage rebel transformed into a king with some understanding and compassion for his people and troops. And yet… he still decides to go to war, despite his knowledge of the costs, as a way of uniting his people and advisers in a single vision of conquering France. The leap to the modern comparison of Blair and Bush's decision to take us into war in Iraq as a distraction from domestic issues is an easy one to make. Nasr was also able to convey as Henry that he understood the need for decisions and leadership and the responsibilities involved in that. The date scene with Katherine was lovely, showing a more human side of kings.
Eelco Smits as Henry VI is deliberately unappealing, retreating from decisions either by leaving them to others, or demonstrating a cowardly, callous approach to decision making. Scarred by the death of his father Henry V, he knows that nothing he does will ever earn him the respect and love that his father was awarded. His retreat into religion creates the power vacuum his father was so afraid of. Plots and plans, manipulations and politics are the order of the day and after a short respite with the cold but effective Edward IV, played by Bart Siegers, the powerhouse of madness and narcissism that is Shakespeare's Richard III comes terrifyingly to life.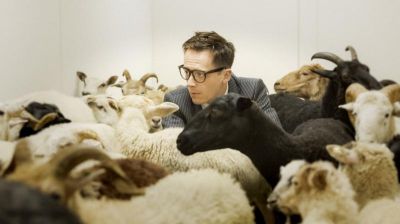 Hans Kesting's performance is a powerhouse of chilling megalomania and the calculated treachery he perpetrates towards everyone around him is petrifying. Richard needs no advisers. He is his own best friend. He despises those with compassion as he sees them as weak. He observes himself obsessively in the mirror and cannot wait to dress in the king's robes. The scene where Richard uses items that are to hand to create his coronation robes and prances around the stage in glee at the power that will soon be his is a masterpiece. Increasingly, Richard's world becomes one of paranoia and violence. He dreams of those he has killed, and, alone in his bare, locked war room, his delusions increase until finally Henry VII is able to reunite the country.
The live soundscape provided by Counter Tenor Steve Dugardin and four brass players plus DJ's and metronomes adds to the atmosphere and provides yet another layer of commentary.
This is a marathon production in more ways than one. For the audience, most of whom are not Dutch speakers, it is an effort to keep a handle on everything that is happening as well as constantly checking the surtitles. It didn't seem quite so hard in The Roman Tragedies, even though it was longer and didn't have an interval. The difference for me is that in Kings of War I was seated for two and a half hours without being able to move and this makes it harder to maintain your concentration than if you are able to stretch and change your seat as happened in The Roman Tragedies.
However, a marathon is an Olympic event and the rewards of taking part far outweigh the aches and pains, so if there are still tickets available, buy one and experience this production for yourself.
Sally Putnam
Photographer: Jan Versweyveld