Book by Harvey Fierstein. Music and Lyrics by Cyndi Lauper. Rockdale Musical Society. Directed by Rod Herbert and Carina Herbert. Rockdale Town Hall. September 6 to 14, 2019
The curtain opened to the sight of a highly sophisticated set portraying the factory floor of Price and Sons shoe factory. The hardware was imported from CLOC Musical Theatre in Melbourne, but just as spectacular were the costumes and boots, lovingly sewn together by the volunteers of the Rockdale Musical Society.
The company is celebrating its 80th anniversary in 2019. It was established in 1939 with a musical called Sunny. The Rockdale Musical Society survived World War II, multiple recessions, changing demographics of the local area and most challenging - the establishment of a rival musical society in the same suburb (The Regals Musical Society is also still going strong). The great split happened way back when someone was unhappy at not getting a part - so a new company was born.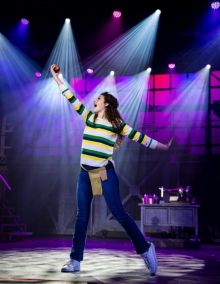 Community theatre is at its strongest when an army of volunteers stitch together an impressive production with human resources professionals drool over. In a way this is similar to the ethos of the musical Kinky Boots. A large group of employees pitching together to save the factory from closure by creating a new line of gorgeous boots. The musical has heart and a rollicking score from Cyndi Lauper to boot.
This was the Sydney Community Theatre Premiere of the musical and Rockdale Musical Society assembled strong leads. Marcus James Hurley portrayed Charlie Price (the son who inherits the factory) with passion and good vocal reach. Another stand out was Kate Xouris as Lauren, the employee at the factory with a huge crush on Charlie. She has a natural gift for comedy.
The role of Lola/Simon has proved a minefield for amateur theatre to cast. The original character whom Lola was based on was Anglo-saxon. In the movie and Broadway musical it was cast with a British person of colour and Afro-American. The first Australian community theatre company to stage Kinky Boots had a bruising brush with activists over not casting a person of colour.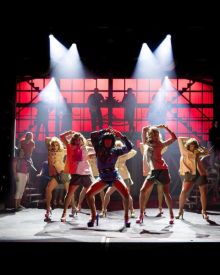 William Manukia ticked every box. Coming from a dance background, William was always going to have the hoofs to do this role but also added to the mix loads of charisma and a very amusing contrast between his top notes and deep voice. This was a very impressive debut by someone appearing in his first musical.
The leads were ably supported by a well drilled chorus of dancers, tight orchestra and lighting. The full house who crammed into the Rockdale Town Hall gave the cast a well-deserved anniversary cheer.
No proper community theatre production would be complete without a few creaky bits. Some of the set pieces which descended to the stage appeared to wobble with a bit of menace – and one part of CLOC's structure fell over.
Part of the joy of squeezing an almost professional standard set into a town hall with limited capability.
David Spicer
Photographer: Grant Leslie