By Greg Lavell. Western Sky Projects. Fringe World. Directed by Joshua James Webb. The Studio, Subiaco Arts Centre, WA. Jan 29 - Feb 1, 2020
Western Sky Projects is a new company which aims to showcase home grown musical theatre shows and talent in Western Australia. Kiss is a World Premiere, with book and lyrics by Greg Lavell, featuring a local cast, which has played to sell-out houses during its short Fringe World run.
The show follows young couple Samuel and Samantha, whose already tumultuous relationship is thrown into turmoil with the arrival of Samantha's orphaned teenage niece. Told in a non-linear structure, the three characters are very nicely developed, and the show features particularly strong book scenes. While the music is probably not of the "sing it on the way home" type, it is varied and interesting, and the show is well-accompanied by composer Lavell on piano and cellist Anna Sarich. Musical highlights included a gorgeous duet between Samantha and niece Lucy, and Samuel's wonderful quitting work song.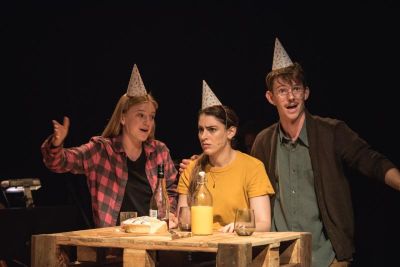 Director Joshua James Webb also designed this show, and the set is quite complex for a show that has under 30 minutes to bump-in for each performance. The noticeably organic feeling set, consisting mostly of large wooden trellis structures on wheels, is moved frequently during the show, with expert choreography to create a variety of different scenes (the Melbourne Tram is particularly well received). Adelaide Henry's lighting design works well with the constantly shifting space, and establishes both locale and emotion.
Three very strong performers work well together to create complex and changing relationships. Gemma Sharpe brings complexity to the pivotal role of Samantha, in a nicely drawn performance. Cal Silberstein is very likeable as Samuel, with honesty and warmth. Lilli De Nardi gives great credence to the role of Lucy, whose story is gradually revealed to be more complex than at first it may appear.
Very well received by the full house, Kiss is a very promising new work that deserves further exposure. Wonderful to see such an interesting and well-developed new musical.
Kimberley Shaw
Photographer: Dana Weeks