Music & Lyrics: Cole Porter. Book: Sam & Bella Spewack. Critical Edition: David Charles Abell & Seann Alderking. Opera Q. Director: Kris Stewart. Conductor: Guy Noble. Choreographer: Christopher Horsey. Concert Hall, QPAC. 12 Nov 2016
Following on from 2015's semi-staged Candide, Opera Q have again dug into the musical theatre vault and come up with Kiss Me, Kate. It was a good choice. Staged in concert form for two performances it had more on the plus side than the minus – a top-heavy cast of stars, the Queensland Symphony Orchestra, the Opera Q Chorus and an ensemble of Griffith Musical Theatre graduates who all vocally blew the roof of the Concert Hall when they were in full flight which was often.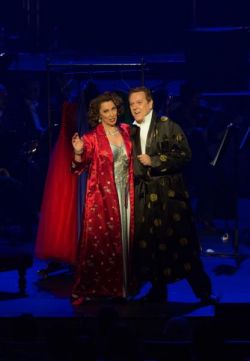 Cole Porter set the gold standard when he wrote "Another Op'nin,' Another Show", one of the best, if not the best Broadway opening number, and yesterday it sounded spectacular. So too was Christopher Horsey's "Too Darn Hot" tap routine, impossibly danced on a ribbon of stage that opened the second act, Naomi Price's delicious vamp on "Tom, Dick or Harry", and Bryan Probets and Shaun Brown shamelessly mugging as the gangsters in "Brush Up Your Shakespeare."
Cheryl Barker's Lilli Vanessi had fire and was fiery on "I Hate Men", and captured the desire of "So in Love" with a melancholic longing. Peter Coleman-Wright may be a fixture on opera stages of the world but in this performance as Fred Grahamproved musical comedy was not his forte. His portentous delivery of his songs did not help although "Were Thine That Special Face" was languidly insinuating.
Jason Barry-Smith (Bill), Bradley McCaw (Hortensio), and Kurt Phelan (Gremio) added to the fun, whilst Paul Bishop made his mark as Harrison Howell. Kris Stewart's pacy direction had the actors performing in and around the on-stage orchestra players, which sometimes worked and sometimes didn't, while his answer to the dated script was to allow heightened OTT "theatrical" performances of the bits of The Taming of the Shrew in the plot.
But it was the Queensland Symphony Orchestra under Guy Noble's baton which was the icing on the cake. Sounding grander and richer than a pit orchestra, they gave Porter's timeless score the sparkle it needed.
Peter Pinne
Photographer: Steve Henry