By Tom Wells. Red Stitch Actors Theatre (Vic). 31 August – 22 September, 2012
Tom Wells' The Kitchen Sink gets the balance just right: narrative, acting, stagecraft. It is engaging despite its low pace, and warming for its emotional honesty. Director Terence O'Connell has done the company proud with his directorial debut for the Red Stitch Actors Theatre.
Set in the Yorkshire seaside resort of Withernsea, an ordinary working class family are all struggling, either trying to make ends meet (mum and dad), or getting life started (daughter and son). The play is set over one year and, by its own admission, explores people's capacity to change in small and unforeseen ways.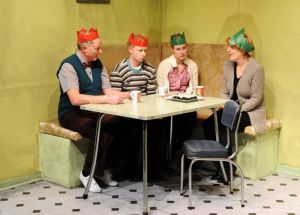 Whilst dad (Russell Fletcher) is only likeable 80 minutes into the production (out of a possible 90 minutes, and only after his failure speech), each actor is excellent. Tim Potter, Tim Ross, Christine Keogh and Kristina Brew, and of course Fletcher, speak well developed English accents, sounding like a family. They look like a family too: domestic woes, irritations and blow ups, different dynamics amongst members.
The script is special. The audience could probably guess that this is an award winning play (George Devine Award 2012, Critics' Circle Theatre Award 2011). Action drives character, and character drives action. Thus rather than the dialogue saying, "I feel…", we see it. Additionally the actors seek out possibilities for genuine moments. Special mention here goes to Keogh and her comedy background.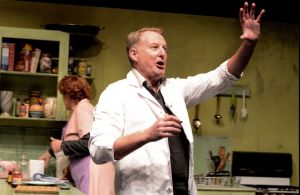 The set is an old fashioned, run down kitchen with an eating area. The broken kitchen sink is the continuity from season to season. The cast are comfortable in the interactive set, and use the props accordingly (such as a kettle, radio, oven, fridge and a plunger). A hallway is seen in the background, and an upstairs is implied. Hanging pictures of the children in their early years suggests a family that does not embrace change.
On this, 'change' is a strong idea in The Kitchen Sink. Change is challenging for anyone, but for the working class it's more challenging. These people are limited in their choices. A lack of money affects vision, which affects mentality, which affects relationships, which affects mentality, which affects vision.
For all its good points, the play is a little too long, perhaps by 15-20 minutes. Despite this, it's absolutely worth seeing.
Tammy Shmerling
Images (from top): Tim Potter and Christine Keogh; Russell Fletcher, Tim Potter, Kristina Brew and Christine Keogh & Russell Fletcher. Photographer: Jodie Hutchinson.