By Giacomo Puccini et al. Opera Australia. Joan Sutherland Theatre, Sydney Opera House. Jan 4 – 21, 2014.
Ji-Min Park, the South-Korean tenor, has an on stage enthusiasm which is infectious. From the tingle of excitement when his fingers brush the tiny frozen hand of Mimi to a childlike wave to the audience during the curtain call his personality beams through to match his soaring arias.
Playing Rodolfo in this revival, he is the living embodiment of the benefits of colour-blind casting.
At first blush it is a little odd to see an Asian performer play the romantic poet lead in an opera set in the Latin Quarter of Paris during the 19thcentury (but transplanted by Gale Edwards into Weimar Germany).
Once the adjustment is made the journey is a sweet one, aided by the genuine chemistry between Park and his on-stage lover Nicole Car as Mimi.
In many ways the performers lifted the opera above the contradictions in this production.
The first scene is set in a freezing apartment of the poor Bohemian artists on Christmas Eve.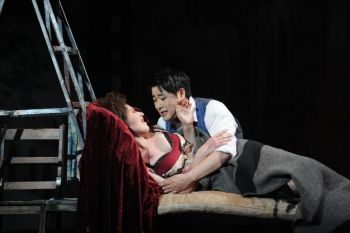 Giant panels drape the stage in the shape of a giant gazebo which are canvasses for a biblical painting.
They are substituted in the second act by lavish theatre seating that surrounds the café Momus.
In the dress circle are beautifully adorned (and partially undressed) patrons who cavort in the style of what the director calls the 'drugs' and 'free sex' world of Germany in the 1920s and 1930s.
The amount of eye candy on offer is a little over the top. It is too easy to lose the thread of the narrative as eyes wander around the stage.
But you can never have too much good music.
From the opening note under the baton of Andrea Licata the orchestra had a clarity and warmth that was exceptional, earning them a well-deserved ovation.
Just as glittering were Sharon Prero as the flirtatious Musetta and Gorgio Caoduro as her lover Marcello.
La bohème with one beautiful tune after another, set to romance and tragedy, remains a gem to admire no matter how many times you have seen it.
David Spicer
Images: Lightbox Photography