Music by Giacomo Puccini. Libretto by Giuseppe Giacosa and Luigi Illica. Opera Australia. Joan Sutherland Theatre, Sydney Opera House. January 2 - March 28, 2019.
This sumptuous production, transplanted by Director Gale Edwards from Paris to the decadence of the Weimar Republic, will dazzle anyone who has not seen it before – but on opening night the performances did not generate the 'fireworks' that exploded over the Harbour a few days before.
The set, designed by Brian Thomson, is framed by the inside of what resembles a giant octagon. In the first act the panels depict large scenes of the biblical crossing of the Red Sea, being painted by an impoverished artist. In the second act the panels revolve to become a lavish Weimar Republic opera house. Another beautiful transition sees the panels become a transparent wire fence – allowing the audience to see snow falling outside.
It is a work of art to frame one of the most complete and beautiful operas in the canon. With stirring memorable arias and cinematic orchestrations, which push the narrative forward at pace, La Bohème is rightly revived on a regular basis. The Opera is both extremely sad and witty. Who can resist the imagery of a desperate poet using the manuscript of a play to light a fire? Who is not touched by a beautiful heroine in decline?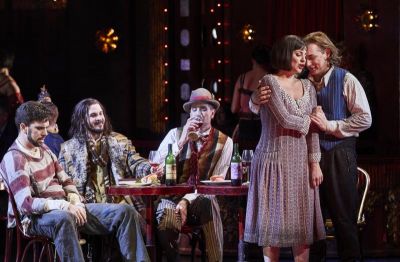 At the Opera House, you can measure the audience's appreciation of a performance by an outbreak of thunderous ovation – rather than enthusiastic applause. On opening night this happened only once – in appreciation of the outstanding orchestra under the baton of conductor Benjamin Northey. In particular the brass section was exquisite.
International guest principals who led this production were warmly but not ecstatically welcomed by the audience. The dashing Italian-born Tenor Ivan Magri played Rodolfo, with Lebanese-born soprano Joyce El-Khoury as Mimi. Although I did not feel a fission of electricity when their hands first touched, in the freezing apartment during the aria Che gelida manina (Your tiny hand is frozen), by the end of the opera, when her fate is sealed, the chemistry and emotion was visceral.
Russian-born soprano Anna Princeva, as Musetta, sang the iconic aria Quando m'en vo with passion, aided by the glittering shimmering dress designed by Julie Lynch.
The only Australian in the 'top four' was Samuel Dundas, who was charismatic as Marcello.
La Bohème was a solid start to a season which has many more new and innovative productions to follow.
David Spicer
Photographer: Keith Saunders