By Giocomo Puccini. Produced by Co-Opera. Directed by Mario Bellanova. Musical Direction by Brian Chatterton. Various venues. December 1 - 10, 2017
A winery and an opera, now that sounds like too good an offer to pass up. Serafino Winery hosted the latest offering from Co-Opera in their courtyard area. La Boheme seemed to be a perfect choice, as it is mainly set in a small attic room with little furniture.
I have been to several Co-Opera productions and was looking forward to seeing this one, but unfortunately Mario Bellanova's direction and his lack of attention to the details made this evening less than satisfactory.
Ticket prices were the cost of a seat for State Opera and therefore there are no excuses for mismatched and inappropriate costumes, poor lighting, plus plastic glasses and paper plates as props. Neither is it appropriate to burst into "Happy Birthday" for a guest in the audience, albeit beautifully sung, after the director has introduced the characters and told the story of the opera. As to the latter, a synopsis would have achieved the same effect and allowed audience to refer to it, or not, as needed.
The lighting was very poor and in Act 2, Musetta and her rich patron were sitting at a table in the market, in darkness.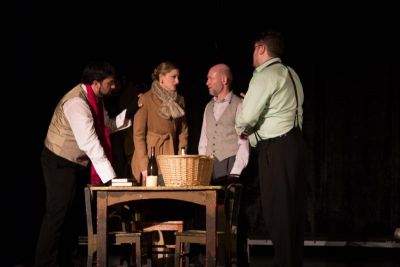 Chatterton as musical director had done his usual great job with the musicians and Puccini's beautiful score was delivered professionally. Naomi Hede as Mimi was the standout singer with seemingly effortless top notes. However, her costume did not match the character of Mimi. Hede did not come across as a fragile young woman caught up in Bohemian Paris, struggling to access the basic needs of life, such as paying the rent, staying warm and having enough to eat. Since I was watching as well as listening this caused a constant discord for me.
Rudolpho, performed by Branko Lovrinov, and Coline, sung by Daniel Goodburn were consistently strong. There were some phrasing problems at times with all the male parts. Alexandra Scott as Musetta had the best physicality of the group and was a pleasure to watch.
Overall it was an enjoyable evening out, due to its location and Puccini's music is always beautiful, but as an operatic experience it was a disappointment due to lack of care over small details, which, in the end, are the responsibility of the director. One mistake can be missed, two can be ignored but three plus can become aggravating and spoil the whole.
Sally Putnam