Music: Ferdinand Herold, arranged by John Lanchbery. Choreographer: Marc Ribaud, staged by Craig Lord-Sole. Queensland Ballet & West Australian Ballet. Music Performed by Camerata–Queensland Chamber Orchestra, conductor Nigel Gaynor. Playhouse, QPAC. 4-19 August 2017
The French countryside has never been so explosively joyous as in Queensland Ballet's new production of La Fille Mal Gardee.
One of the oldest ballets in the classical ballet repertoire, it originally premiered in 1789 in Bordeaux, France, and has never been out of fashion since. Most ballet companies around the world use the version Frederick Ashton created for the Royal Ballet in 1960 which is the version still in the Australian Ballet's repertoire today. This new production for Queensland Ballet, a co-production with West Australian Ballet who mounted it in 2014, is by the French choreographer Marc Ribaud and created in 2000.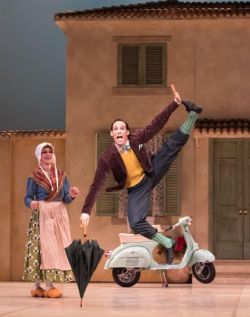 Although he has given it a new coat of paint, Ribaud sticks closely to the original plot of a young couple in love who are thwarted in their plans to marry by the opposition of her widowed mother who wants her to wed for money. He eschews Ashton's legendary 'ribbon maypole dance,' but has retained the idea of the Widow played by a man and set it in rural France in the 1950s with a hero in leather jacket, T-shirt and jeans who rides a motor bike and a heroine straight out of Tammy who wears full skirts and petticoats.
As the former, Vito Bernasconi not only looked the part, but danced with the passion of youth and the innocence of first love. His initial advances, tentative and sweet, progress to full on burning desire. His grand jete's and pirouettes were particularly impressive.
Opposite him as Lise, Yanela Pinera was limpid beauty personified. She imbued her character with a ton of allure, was flighty and capricious, yet conveyed warmth in abundance, especially in her 'when we are married' sequence, which was nicely mimed. Dancing with superb control her extensions and pas de deux were simply lovely.
Star of the performance however was Rian Thompson's Widow Simone. In the past few seasons this bold dancer has been going from strength to strength, always delivering a standout performance.With this latest character he shows that he has earned a place at the principals' table. With spot-on comic timing, not easy when the comedy tends to be slapstick and broad, he gave the role humanity and heart. And his 'clog dance' was not only funny but delivered with astute showmanship. At one stage he was even dancing en pointe. He deserved the bravos and thunderous applause.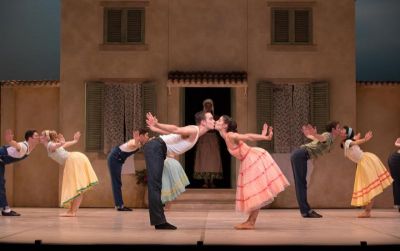 Other standout performances were Liam Geck's fumbling and ill-suited suitor Alain, who's more at home clutching his umbrella than a girl and Shane Wuerthner's crotchety legged Thomas father of the suitor. The ensemble of friends of Lise and Colas was top-heavy with ballet talent who matched the principals with their joie de vive and added several notches of pleasure each time they came on stage.
Richard Roberts set conveyed irresistible bucolic charm, Jon Buswell lighting, especially the storm scene, was hugely effective, whilst Lexi De Silva's pastel costumes for the girls added to the sunny and spring feeling of the show.
Although Ribaud has created a vivid reinterpretation of La Fille Mal Gardee it would be nothing without John Lanchberry's playful score, based on themesfrom Ferdinand Herold's 1828 original. Nigel Gaynor and Camerata - Queensland Chamber Orchestra - played it with considerable energy and brio which resulted in a perfect night of ballet.
Peter Pinne
Photographer: David Kelly