Music by Kaija Saariaho. Libretto by Amin Maalouf. Sydney Chamber Opera. Directed by Imara Savage Carriageworks, Sydney. January 9-11, 2019
The high-concept and difficult work La Passion de Simone has been described as at the cutting edge of the operatic form. Written by Finnish composer Kaija Saariaho as a meditation on the life of French philosopher Simone Weil, it consists of a solo singer Jane Sheldon with the backing of a 19-piece orchestra and four vocalists. It's fitting that it's staged at the Sydney Festival, where new ideas can be shown to limited, adventurous audiences. The work, initially but no longer described by the composer as an oratorio, will only appeal to a relatively small number of operatic devotees (and probably not many mainstream opera fans).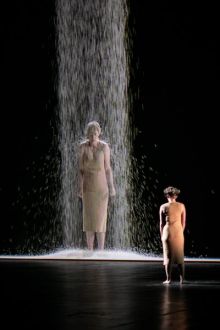 The staging, by the Sydney Theatre Company's highly regarded resident director Imara Savage, is impactful in the cavernous Carriageworks performance space. Sheldon sings to a giant screen where a video of her is projected. Both her real and projected forms tremble against the force of the music - and of humanity. In the video, she is pounded by tonnes of what appears to be sugar (at the age of five, Weil refused sugar as a gesture of support to French soldiers) and rice (she died of self-starvation and tuberculosis). This is an incredibly demanding performance for the excellent Sheldon, not only as a soprano singer but also in the physical intensity she endures.
The problem is that it feels like this work, which is sung in French, is a feat of endurance for the audience too. While it is meditative and the music profoundly spiritual - suitable for such a deep thinker as Weil - the staging makes it even more difficult. Sheldon performs the 75 minutes with her back to the audience and the video may be mesmerising but it's very slow. The four singers from the wonderful Song Company sit with the orchestra. There is very little going on and often you find yourself more entranced by the conductor Jack Symonds and his musicians than Sheldon, whose face you only see prerecorded on screen.
Musically, the work is affecting but lacks enough moments of great drama. The performances are all brilliant but the action is so slow that it's easy to lose engagement and allow your mind to wander.
In many ways, this is a piece of aural and visual art rather than a piece of theatre or opera you can connect with. Savage recently told The Monthly that Weil's story lends itself to performance art rather than "entertainment opera". She has clearly made it that. But for the audience, it's hard to remain engaged.
Peter Gotting
Photographer: Victor Frankowski