Book by Carolyn Burns. Music and Lyrics by Tim Finn. Queensland Theatre / Sydney Theatre. Directed by Simon Phillips. Sydney Lyric Theatre, Jan 3 – 22, 2017; Playhouse – QPAC, Brisbane, Jan 28 – Feb 19; Regent Theatre, Melbourne, Feb 25 – Mar 18; Canberra Theatre Centre, Mar 27 – Apr 2.
This quintessential Sydney story – adapted entirely by New Zealand born creatives – wrapped the audience in a familiar and cosy blanket of recognition. The production has been previously staged in Brisbane and Melbourne where references to Sydney suburbs did not elicit the giggles of recognition achieved in their hometown.
At the heart of the story is a young girl, aged 17 who wants, not to find the man of her dreams, but advance her education. In the 1950's completing the Leaving Certificate (HSC) was the exception rather than the rule.
Lisa (Sarah Morrison) is working at the Goodes Department store (think David Jones) during her summer holidays waiting for her results to come out. Her father has pre-determined that University is out of the question for a young woman. The central drama is whether her results can change his mind to allow her to study poetry at Sydney University.
At the store she meets many wonderful characters facing suburban challenges ranging from infertility to a man drought. The most flamboyant is the stylish Hungarian i
mmigrant Magda, in the designer dress department, played deliciously by Natalie Gamsu.
Trisha Noble's character Miss Jacobs – still distraught at the loss of her fiancé in World War 1 - acts as a behind the scenes Fairy God-mother, helping to resolve challenges her colleagues face.
The male characters, more often than not, play second fiddle in what is a woman's world. Indeed one of the best songs of night involved the women making fun of Frank (Tamlyn Henderson) the husband of one of the Ladies in Black. He is a "common variety bastard" – who often "gets plastered". The women wonder how their marriage has "lasted", given his poor communication skills and interest in drinking at the pub and golf over and above communicating with his wife.
Tim Finn's music and lyrics provide many unexpected and delightful flavours. One of the songs has a deft percussion comprising the tinkling of spoons on tea cups. He mixes subjects as disparate as Shakespeare and Sydney's northern beaches in the one sentence.
Several of the solos by Lisa could become popular audition pieces for performances. The finale to Act One, Tomorrow Becomes Today, is one of the stand outs.
Tim Finn famously found the novel Women in Black by Madeleine St John at an airport and rang Director Simon Phillips to help him adapt it into a musical. It's clear that Finn's connection to the aspirations of the 17 year old lead character to be bold enough to desire to be a poet has helped shape the flavour of many of the songs. The six piece band on stage for the duration are just the right balance for this chamber musical.
Equally stylish in the simple elegant set by Gabriela Tylesova, which moves from the Department Store to suburbia. Yes, the costumes are on the black side – but there a few moments of colour which make up for it. She even managed to slide in a public urinal in a moment of hilarity.
Ladies in Black is a treat to watch and a perfect production for the Sydney Festival.
David Spicer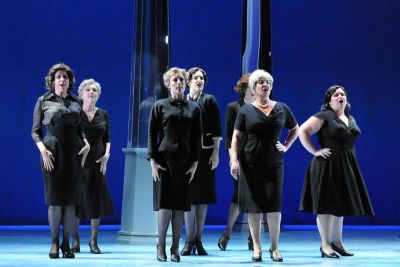 Editor Neil Litchfield adds
Locally written charm musicalLadies in Black delights precisely because it's so far outside the usual musical theatre formula, while speaking with such a familiar, very human local voice.
A rites of passage story of a bright teenage girl, leaving school in the early 1960s with big dreams, having her horizons broadened thanks to her Christmas job in a top-end Sydney Department Store, Ladies in Black gently engages with characters we identify with, probably know well, and are almost certainly related to, together with their life journies.
If, like me, you're a child of that era, this is a musical that's bound to resonate.
It touchingly documents a slice of women's experience in Australia, not so distantly removed from today, on the eve of tectonic changes the 1960s would bring, in an Anglo-Saxon city on the brink multi-culturalism, where 'continentals' were exotic, and tertiary education for women was the exception rather than the rule.
It's such a gentle piece of personal journey storytelling. Strolling out into the foyer at intermission, I don't think it's a spoiler to say that I was already anticipating the likely outcomes for several characters who I had come to care for, looking forward to the way their stories would happily unfold.
I wasn't disappointed for a moment as we shared their hurdles to happiness, in the second half. I can't imagine anyone would be.
Carol Wimmer adds
David and Neil have said all the wonderful things that need to be said about this wonderful musical. My addendum is more 'history' than 'review'!
Ladies in Black took me back just a little further than 1960, to the Christmas holidays I spent at David Jones from age 14 to 19! I was too young to be 'on the floor' at 14 – and only got the job because my uncle was the Menswear buyer and my father worked at the George Street store – so I spent that holiday on the 9th floor of the Market Street store writing prices on jewellery!
Next year I graduated to the Hosiery Department where I worked every Christmas holidays until I was 19. After the "Christmas returns", I was moved to wherever 'temps' were needed for January sales.
I not only identified with Lisa's initial trepidation and her relationships with the permanent staff (though the story doesn't mention the White Carnation-ed Supervisors who policed each floor with military carriage and eagle eyes), but it was at DJ's, the afternoon before the results came out, that my father rang me with my Leaving Certificate results, just as Lisa's did! Such a strange coincidence!
So Ladies in Black is/was to me more than a deftly adapted, carefully conceived and brilliantly directed and performed musical! It was a trip down a memory lane that led, dare I say it, right back to the beginning of December 1954!
Images: Lightbox Photography
More images in our gallery - click here