Naomi Price with the Sgt Pepper's Lonely Hearts Band. Written by Adam Brunes & Naomi Price. Dramaturg: Daniel Evans. The Little Red Company. Roundhouse Theatre, Kelvin Grove. 7-10 August 2019 and touring.
Brisbane's powerhouse of song Naomi Price (Rumour Has It/Beautiful: The Carole King Musical) is back again blistering the Roundhouse stage with her Beatles tribute Lady Beatle, accompanied by her original band of musicians, the Sgt Pepper's Lonely Hearts Club Band - Mik Easterman (drums), Andrew Johnson (bass), Michael Manikus (piano), and Jason McGregor (guitars).
Originally conceived in 2017 by Price and Adam Brunes, the cabaret pop-concert looks at the Liverpool group's beginning's and history through the enigmatic eyes of a fan (Price) weaving in their iconic back catalogue of greatest hits.
The performance space was set up with a mix of cabaret (tables and chairs) and in-the-round traditional tiered seating. It was perfect for the show. Opening in darkness, suddenly the stage is alive with colour and sound (brilliant work by Jason Glenwright and Jamie Taylor) as Price belts into "Sergeant Pepper" dressed in a Sgt Pepper inspired grey coat courtesy of designer Leigh Buchanan. It was an appropriate opening as it was 50 years to the day that their eighth studio album "Sgt Pepper" had been released, and set the stamp on what was to follow, a roller-coaster ride of classic Merseyside pop; "Let It Be", "Help", "Strawberry Fields" and "Come Together", mixed with Andrew Johnson's Bach infused arrangement of "Eleanor Rigby", the sing-a-long "Yellow Submarine," to the audience participation of "Penny Lane" where individual members of the audience were spotlighted and traded banter with Price. She drew pathos out of "With a Little Help From My Friends" and her anguish was searing on "Don't Let me Down".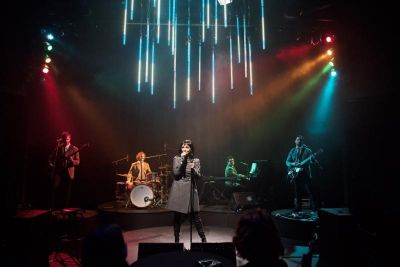 The band was gutsy, raw, and brilliantly talented in their backing, frequently overshadowing the star who allowed them their own centre-stage moments.
The 90 minute gig closed with the ultimate Beatles medley, 10-minutes of songs that included just about every hit they ever recorded. The standing ovation gave Price enough time to go off-stage, effect a costume change and reappear in a dazzling red pant-suit to encore with a heartfelt "Here Comes the Sun".
Price and Brunes' script was original, with an ultimate nod to Brian Epstein, the group's first manager and the one who changed their image with marketing savvy.
The Beatles wrote sophisticated pop, that's why they've endured down the ages, and this show will satisfy any and every fan.
The production is about to embark on a 32 date Eastern states tour and there's no doubt Brisbane's 'diva queen' will have them eating out of her hands.
Peter Pinne
Photographer: Dylan Evans