By Joanna Murray-Smith, Cremorne Theatre, Queensland Performing Arts Centre (QPAC) from 3 to 31 August 2019
Acclaimed playwright, Joanna Murray-Smith has premiered her new play L'Appartement at QPAC's compact Cremorne Theatre. The production also marks her debut as director. L'Appartement is a sharp, witty and highly entertaining play that takes present-day dilemmas in domestic politics and personal ethics and watches them explode when two succinctly sketched couples collide. Weary married couple Meg and Rooster escape the Brisbane burbs to rekindle some of their spark on a romantic mini-break in the universal city of love. Courtesy of Airbnb, they meet too-good-to-be-true Parisian super-urbanites, Lea and Serge, who seem to have everything – a chic, minimalist apartment accented with fabulous collections of wine and French LPs, meaningful careers and (of course) a vigorous sex life. In a vein similar to Yasmina Reza's ART, wires cross and foundations falter when a mysterious package arrives at the apartment. But Murray-Smith's script is much more fulfilling – fleshing out her characters with skill and savvy.
The real ballast in this production is the superb cast. As Parisian couple de rigueur, Melanie Zanetti and Pacharo Mzembe hit absolutely the right notes as the modern duo who have ticked every box on their sustainable living checklist. It would have been so easy to stray into farce territory, but the performers elicit empathy as well as laugh-out-loud recognition. As the middle-aged Aussie battlers, Andrew Buchanan and Liz Buchanan give the sort of tour de force performances that theatre fans dream of. There is real depth in this couple's dialogue – AKA existential exchanges! Married in real life, I'll be cheeky and suggest that it takes a confident couple to brutally lay so many potential weaknesses to bear for us to laugh at. But I'll bet that many in the audience (myself included) will feel that the playwright has hacked into their holiday conversations and jet-lagged domestic debates!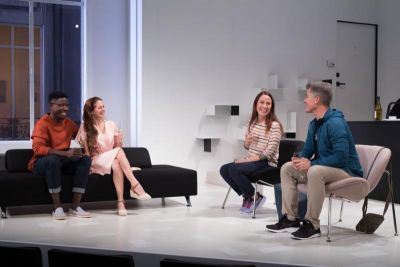 In her first directing foray, Murray-Smith shows finesse. There is a very satisfying equilibrium in the balanced and balletic performances. Both couples work together as comic teams, punctuating each other's sentences and movements with rhythm and nuance that sets the tone well above sit-com, soapy or soap-box. The creative team, Designer, Dale Ferguson, Lighting Designer, Ben Hughes, and Composer/Sound Designer, Guy Webster, brilliantly transport us to La Marais in Paris. The set is so chic that people were taking photos of it before the show started! I'm a huge fan of the one-act form and L'Appartement proves how powerful it can be – and how delightful for audiences. No wonder seats are selling fast for this fresh and fabulous production. Mais oui – bien sur!
Beth Keehn
Photos by David Kelly.