By Ayub Khan-Din. Nautanki Theatre. Riverside Theatre, Paramatta. January 21 – 24, 2016.
Nautanki Theatre continues its double aim: sharing the history and legends of India with a larger audience, as well as sustaining a strong sense of heritage for those of Indian descent. This play, however, also raises issues that are more universal – and certainly very relevant today - issues of people who feel displaced or unsafe in their own society and people who feel the need to flee religious, political or social persecution.
Through the eyes of a vocal group of Anglo-Indians remaining after Independence in 1947, and a volatile group of nationalist Hindu revolutionaries trying to establish local land rights, playwright Ayub Khan-Din writes about the effects of social change on personal dignity, about adapting to different circumstances – and about re-establishing a sense of place and national pride. In doing so, he echoes the 'post-colonial' issues of many countries – the USA, Africa, Canada … Australia.
But he does so with a sense of humour that is intrinsically Indian, and therefore very appealing.
His Anlgo-Indian characters are cunningly created. They cling to past glory and fading dignity as their former social standing and influence fade. His 'revolutionary' leader is fired with nationalist zeal and energy. As they interact, a series of issues are raised – all based on shifting social and political forces – and all presented with a typical mixture of humour and pathos that is essentially Indian.
Lenore Robertson has directed Khan-Din's work with an empathetic ear for the lilt of the dialogue and the timing that, once again, has to be 'essentially Indian'. The reactions of the audience attest to the fact that she has got most of it right! All that lets the production down is the audibility of some lines that are, unfortunately, too soft despite the proximity of the audience and the acoustics of this theatre space, and the difficulty of hearing any lines over the sound effects of a riot at the end of the second act. Both can be remedied.
Marty O'Neill is charmingly convincing as the pompous, post-Raj patriarch, Bertie Marsh, complete with grey handle-bar moustache and BBC-style accent. Anne Geenen plays his ailing but staunchly class-conscious wife, Muriel, prone to unruly 'turns' and anti-insurrectionist rantings. That these are also very funny establishes the real pathos of the character – and as such, that of the whole social situation.
Cristina Barbara plays the long-suffering leader of this co-op of displaced people. Prone to resort to drink, she tries in vain to control Muriel's outburst, and deal with the demand of their 'landlord' and land rights activist, Mr Chakravarti, played by Dixit Thakkar.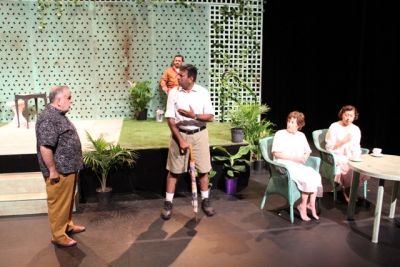 Thakkar is diligently authentic in this role, accentuating the new patriotism in nationalistic speeches that belie the shakiness of the society. Thakkar's Chakravarti is all bluster, swagger and repetitious gestures, until faced with an actual riot when his real character is revealed! One of the funniest – and most poignantly universal – moments in the play is his attempt to take over the garden of the dwindling estate by claiming that Lord Krishna stubbed his foot on a boulder in the garden some time in the long-distant past.
Suparna (Bobby) Mallick is convincing as Violet Wallace who is determined to cling on to the glory of the past by collecting colonial relics that are being discarded, such as a photo of King George VI. Mallick's comic timing adds impetus to the production.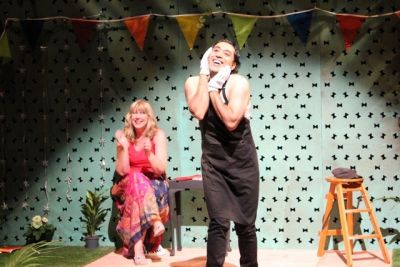 Penny Day plays Lydia, a quiet English visitor who, unsuspectingly, becomes embroiled in the situation. Day's gentle character is a sharp contrast to the other women – and a nice foil for the character of Eliot, the gay house boy, played with tongue-in-cheek verve by Neel Banerjee, who also provided the concept design for the production.
Newcomer to the stage, Michael Mouyat plays the sad Mr Jones, who maintains the garden that his wife established on the estate. Mouyat is suitably mournful in a short monologue about his wife, but many of his lines were so softly delivered on opening night that the real implications of his character's plight were lost.
As it was with all of their work,the enthusiasm of Nautanki Theatre and those that support its multicultural mission is clearly evident in this production, as is that of director Lenore Robinson, whose empathy for the themes and the characters is clearly apparent.
Carol Wimmer