By Jason Robert Brown. Art in Motion Theatre Company. Fringe World. Directed by Lys Tickner and Tyler Eldridge. Don Russell Performing Arts Centre, Murdoch Dve, Thornlie. Jan 24 - Feb 2, 2020
Art in Motion Theatre Company has conducted a bold theatrical experiment for Fringe World. Forming two sub-companies, they have produced the same show, twice. Two different directors have created two completely separate and different productions of the same show, as a mission to see how two interpretations might differ. Patrons can choose to see one show or two, with the second show complimentary.
Rehearsing separately, the two productions did not see each other until dress rehearsal. And the experiment is a success. Despite no conversations or plans to make the shows "different" - you could probably not get two more different, loyal to the original concept, interpretations of The Last Five Years.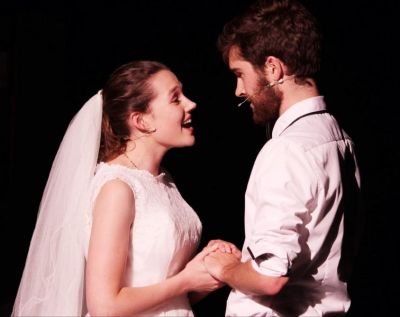 For those unfamiliar with The Last Five Years, the show tells the story of a relationship, with Jamie starting at the beginning of the relationship and telling his perspective in a linear fashion, and Cathy starting at the end of relationship and moving backwards in time. They meet in the middle at their wedding.
The shows alternate which version plays first on any given evening, but I will address them in the order they played on Opening Night.
Blue Team is directed by Lys Tickner and is a fully realised community theatre style production. A full set designed by Keith Thomas-Worth features throughout, with living and bedroom spaces. Multiple costume changes are employed, facilitated by Angela Wright, with choreography by Mariah Gonzales and strong lighting by Montanna Tickner.
Musical director Tara Oorjitham leads a the biggest band I have ever seen for The Last Five Years, including keyboard, guitar, bass, two cellos and two violins. The strings give a beautiful full sound, but at times, especially in some parts of the auditorium, the big sound (especially from piano and bass) was drowning the performers.
Solid performances from the Blue acting team, with Charlotte Williams a sweet voiced, very loveable and charming Cathy, working convincingly with Lachlan Obst, who was a believable and layered Jamie. Somewhat unconventionally, for this show, the actors appear and fully engage in each others' scenes.
Blue was very well received by a healthy audience.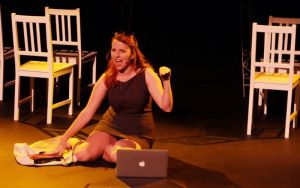 Red Team is directed by Tyler Eldridge and is visually more stylised, with the setting consisting of an archway and varying amount of wooden chairs - an effect which reaches its full impact in the middle of the show. There is only one costume change - for the wedding, with this having great impact - nicely designed by Lynda Stubbs. The general feel is darker, including use of isolated lighting pools, operated by production manager Tim Tyrie.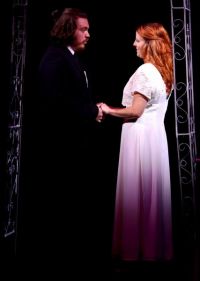 Director and Musical Director Tyler Eldridge leads a smaller band, with keys, bass and guitar, which has more of a rock feel. Again, bass on opening night was a bit heavy - which may be a venue acoustic issue. Particularly fun was Jay Anderson's piano work during Cathy's audition scene.
The role of Cathy might have been written for Grace Johnson, who owns this role vocally and emotionally. She works very nicely with Justin Grey, making a very impressive community theatre and Fringe debut, as a very likeable Jamie. While this Jamie and Cathy were present for each others' scenes, they were deliberately blocked facing upstage, throwing the focus on the protagonist in each scene.
While Red had a smaller opening night audience, the reception was also warm and positive.
Two strong and very different productions of The Last Five Years will delight those interested in the direction and production processes. I highly recommend that musical theatre fans catch both versions - as it is fascinating to see the show interpreted so differently in quick succession.
Kimberley Shaw
Photographer: Blake Hughes