Written and composed by Jason Robert Brown. Ensemble Theatre (NSW). March 29 - April 27, 2019.
Christian Charisiou and Elise McCann didn't so much perform their roles in this musical – more like they drank every last syllable and catchy songs with ecstatic reverence. You could see and feel how much they love the work.
In the two handed musical, Jamie Wellerstein is a Jewish writer who becomes smitten with the non-Jewish actress Catherine Hiatt. She starts the musical at the end of their relationship, he at the beginning and they meet somewhere in the middle.
Based in part on his own life, Jason Robert Brown makes many observations which feel authentic. Jamie is shopped around on Friday nights to meet Jewish girls but falls for the "Shiksa Goddess". After he gets married, previously unattainable woman are suddenly attracted to him. He waves his wedding ring at them.
Catherine's stream of consciousness during an audition is hilarious. "Why is the director staring at his crotch? Why is that man staring at my résumé? Don't stare at my résumé. I made up half my résumé. Look at me. Stop looking at that, look at me. No, not at my shoes. Don't look at my shoes." Her inner voice weaves seamlessly into the actual audition song.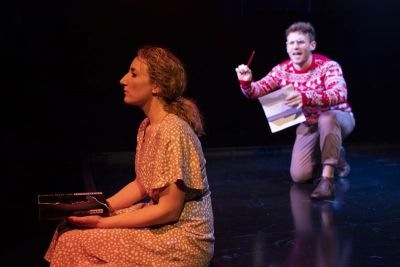 With lyrics like that It is no wonder these performers relish being in this musical. On the small stage of the Ensemble Theatre, Director Elsie Edgerton-Till weaved the drama neatly in and out of spotlights with the leads spinning on small revolves. The mind boggles how they squeezed the grand piano into the elevated part of the theatre.
Elise McCann crafted her character like a master knitter, never missing a stitch, and stayed in character just as meticulously when it was her solo, or Jamie's turn in the spotlight.
Christian Charisiou had just the right balance of lust, humour and despair.
This little production was a triumph.
David Spicer
Photographer: Phil Erbacher