Performed by The Last Prom. Written by Nick Delatovic and Joel Barcham. Music and lyrics by Nick Delatovic and Julia Johnson. Directed by Joel Barcham. Ainslie Arts Centre, Canberra. Saturday November 10, 2012
In this rock opera set on the eve of the Apocalypse, the Antichrist, who might be the son of the beast but underneath is really just a lonely teenager, has as his sole desire to go to a 1950s-style graduation prom and fall in love. And if Lady Gaga can swathe herself in smallgoods, why the heck not? This show is the brainchild of Canberra songwriter Nick Delatovic of The Missing Lincolns. It's fair to say that any child from that particular brain is likely to be fairly eccentric, given that his last play, Rig, involved a suicidal young man lead by a pair of rich twits on a wild ride to save the world culminating in a pirate attack fuelled by ecstasy. This latest concert is the final in a series of one night shows based on the concept of the Antichrist and his four horsemen being a pop-band.
Putting aside any fears for my immortal soul, we trundled up to the charming, old school 1930s Ainslie Arts Centre at 8.00 pm, only to be kept waiting for about an hour in a dusty corridor surrounded by an audience of blood-dripping zombies, prom queens and zombie prom queens, nursing a gin and tonic served in a random mug picked out of a box, while firemen stomped around in their reflective gear before turning off the charming, old school fire alarm. With the bands' Mums and Dads helping out around the hall and serving drinks, it was clear that this was a show which was thriving on tonnes of effort and not much cash.
Nick Delatovic played The Antichrist, narrating with self-effacing, ironic humour (and a touch of Max Quordlepleen as he describes the universe exploding outside the bubble of the Prom). He's got a versatile rock voice and great energy on stage. Keyboardist Julia Johnson enthusiastically backed him as his love interest, whom he believes to be a mortal woman but who it transpires is Death in disguise.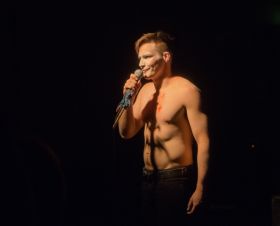 The music itself was a cross between bands like Cake and 1980s Australian pub rock, INXS, Cold Chisel or Jimmy and the Boys at their most crazy. It was a lot of fun and very danceable, once you got over the uneasy feeling that the whole thing was a black mass.
This labour of love was fantastic fun and the music was pretty spectacular. Nick Delatovic is a talented musician and songwriter and we enjoyed the show a lot more than we had expected. Probably not one to attend if you're at all superstitious or religious.
Cathy Bannister
Images: Nick Delatovic as The Antichrist and Julia Johnson as Death; Julia Johston as Death bestows the kiss of death on the unnamed mortal woman & Nick Delatovic as The Antichrist in The Last Prom.