TML Enterprises Production. Creative Producer: Simon Painter. Director/Choreographer: Neil Dorward. Composer: Julian Wiggins. Resident Director: Mathieu Laplante. Lyrics Theatre, QPAC, Brisbane. 1-17 August 2014
Le Noir is a show in the nouveau cirque tradition that mixes a series of impossibly breathtaking circus acts with a whole lot of theatrical glitz. It not only dazzles the eye but stops the heart with its jaw-dropping feats of athletic skill and precision. The performers, mostly former alumni of Cirque du Soleil, not only excel in their ability, but also looked incredibly hot in seductive and sexy costumes.
Simon Painter's concept explores emotions through the colours of Blanc, Rouge and Noir (white, red and black) and plays out on a specially-built circular stage that transforms the Lyric Theatre and allows some of the audience to sit up close to the action on-stage.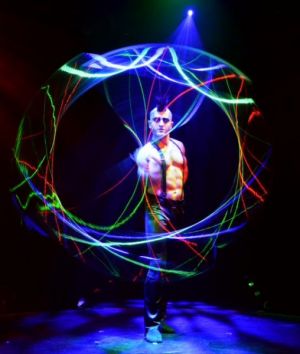 Dario and Vadym was a superb Duo Aerial Silk act that melded the world of dance and trapeze, Jessica and Jeronimo roller-skated on what must be the smallest stage in the world (1.5m) at break neck speed, while strong men Yano and Valeri sent the testosterone level soaring with their balancing act.
But the big thrills were provided by two Australian premieres; Chilly and Fly's Russian Aerial Cradle and Angelo and Carlos' Colombian Wheel of Death. Both were set-up in the orchestra pit and both delivered nail-biting tension, especially the Wheel of Death where the two men performed amazing acrobatic feats inside two spinning wheels.
Sal, the Emcee and comic, relied on audience participation and buffoonery for his laughs. His funniest moment was in a fat suit where he tried to seduce a female audience member at a picnic. The acts also had assistance from four showgirls who were statuesque and pretty.
Christopher Boon Casey's brilliant LED lighting plot was also one of the stars of the night, as was Julian Wiggins score, which had a bit of everything, rock, blues and traditional circus music.
This is the first leg on Le Noir's Australian tour and comes on the back of a sold-out world tour. I've no doubt they will be just as successful Down-Under. They deserve it because they're not just one class act but a dozen.
Peter Pinne