Music by Alan Menken. Lyrics by Glen Slater. Book by Janus Cercone & Warren Leight. Based on the Motion Picture "Leap of Faith" produced by Paramount Pictures and written by Janus Cercone. North Shore Theatre Company. Director: Chapin Ayres. Musical Director: Andrew Beban. Choreographer: Olivia Cathro. Independent Theatre, North Sydney. October 5 - 14, 2018.
This production is full of charm, heart, and professionalism.
Director Chapin Ayres brings out both the emotional truth of the script and some great performances from the cast. I felt that Ms Ayres understands what the show is about, both in terms of its spirit and how to stage it.
Leap of Faith is the musical version of the Steve Martin movie from the early 1990s. It's similar to The Music Man, in that it has a travelling con-man rorting a small country town but then falling in love with one of the local women, forcing him to re-think his values. That's where the similarities end. In Leap of Faith the con man is a preacher (Jonas Nightingale), spreading gospel goodness in exchange for donations. The local woman (Marla McGowan) is the town sheriff who has a wheel-chair bound son (Jake) desperate to walk. Jonas has a sister (Sam) who is in on the con, and a choir lead by singer Ida Mae. Cue the gospel harmonies, hand clapping, and blue grass.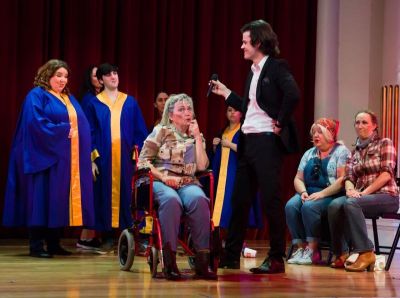 Mateo Morchio was Jonas, playing him laid back and aloof with a swagger, recalling a young Jack Nicholson or Christian Slater as JD in Heathers. His voice was strongest in the middle and lower registers, though the top notes lacked confidence, which came across as an "opening night thing". Grant Loxton was Isaiah, Ida Mae's son, a genuine preacher who wants to stop Jonas. Simply put Mr Loxton was excellent in this role. Nile Sturzaker as young Jake was quite good, evoking our empathy without stooping to schmaltz.
I felt this show belonged to the women – and this is taking nothing away from the men in the cast. Carmel Rodriguez as sassy Ornella (Isaiah's sister), Taggie Ennis as Sam, Kate Mannix as Emma Schlarp (a "healed" patron), and Rachael Gillfeather as the gospel-belting Ida Mae all shone brightly and brought sincerity to their roles and in selling their songs (the quodlibet from Ornella, San, and Ida Mae - "Are You On the Bus" - is a standout).
My personal highlight was Michaela Leisk as Marla: she stole the show for me and her performance is worth the ticket price alone.
Mention must be made of Andrew Beban's excellent musical direction, matched by the equally excellent playing by the orchestra (the trumpet playing is amazing), and Olivia Cathro's choreography that effectively captures the Southern gospel feel. In a review of this show staged by another company I felt the songs overstayed their welcome; here I felt they were just right.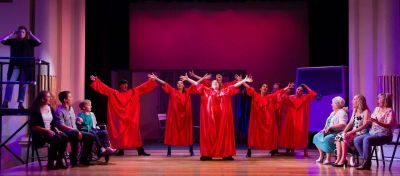 My main problem was with the venue: the Independent is an echo chamber, and despite the cast projecting and enunciating, many times the words were lost. I noticed a couple of the cast took to "over"-enunciating to get over the problem. Further, the venue's lovely paintwork and columns feel more suited to G & S, not gritty modern-day verismo.
Despite this, the show was lifted from its surroundings by the performance of the Ensemble, playing the townsfolk and gospel choir. Everyone was in character and committing to telling the story.
This production is a timely reminder that with the right cast and crew you don't need fancy effects or dazzling costumes to create compelling and entertaining musical theatre.
Peter Novakovich