Created by the cast. Clockfire Theatre Company. Old 505 Theatre, Surry Hills (NSW). 25 Sept to 30 Sept 2012
I reviewed Clockfire's last show, The Grief Parlour, back in June and it was one of the best theatre performances I'd seen in Sydney for a long time. Lei Hideaway is a worthy successor.
Each Clockfire production begins with a concept and develops through physical improvisation. Lei Hideaway was created this way and it incorporates some of the Jacques Lecoq signature elements that have become part of the performance culture of Clockfire Theatre Company. A bare stage as the arena for two hinged screens, which create the wings and back stage for the performance, and move constantly to create reveals and supercharge the pace of this fast moving story. Yet there is always time for a pregnant pause. Each of which provide brief moments for audience reflection. In addition, there is the clever use of music and lighting; a somewhat bizarre, yet insightful, story, with quirky characters; minimal, but saucy dialogue; much movement and an insightful peek into the deep pool of the human psyche.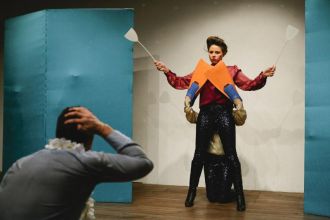 The story opens with a bored young man working in a call centre, who suddenly connects with a prospect who turns the tables on him and makes him an offer he cannot possibly refuse. We feel his remarkable shift from tedium to excitement. Because the proposition he receives on the phone plumbs the depths of one of his most precious and secret fantasies. He says yes and is taken on a remarkable journey into his own yearnings. The characters he encounters in Lei Hideaway seduce him, challenge him, titillate, cajole and finally expel him. Ah, that's life. Say no more!
Lei Hideaway runs only 45 minutes and when it ends you long for more.
Clockfire is a true ensemble in which all the cast each has an important position. Even Roziye behind the screen, who we don't see until the bows, plays a pivotal role in the performance.
Highly recommend. Keep an eye out for their next production later this year.
Stephen Carnell