Music by Claude-Michel Schönberg. Lyrics by Herbert Kretzmer. Original French text byAlain Boublil and Jean-Marc Natel. Holiday Actors and Warrnambool Theatre Company. Director: Cindy Lee Morgan. Musical Director: Sonia Beal. Vocal Director: Elana Agnew. Choreographer: Amelie Gleeson. Lighthouse Theatre, Warrnambool. July 20-27, 2019
I have never felt such a buzz at any theatrical event, amateur or professional. Tickets for Les Misérables presented at the Lighthouse Theatre Warrnambool sold quickly for a six performance season. This final night crowd was anticipating big things from Holiday Actors and Warrnambool Theatre Company's first collaboration.
From the opening bars from the 22 piece orchestra under the capable baton of Sonia Beal the night was a feast for the eyes and ears. Facades of buildings, giant galley oars, a revolving barricade and other props all brilliantly made by local volunteers as well as subtle use of projections and sound effects gave the piece a three dimensional, all inclusive feel.
Director Cindy Lee Morgan along with Vocal Director Elana Agnew and Choreographer Amelie Gleeson have brought out the best from a cast of over fifty, ranging from ages twelve to seventy. Every word could be understood with clarity. Ensemble performances were particularly strong and emotive. What made this production unique was the fact that most actors were of similar age to the original characters penned by Victor Hugo. Seeing young people in their teens dead on the barricade really heightened the sadness, despair and futility of the story.
The finale almost brought the roof down, as 600 people leapt to their feet in a well-deserved ovation that lasted well over ten minutes.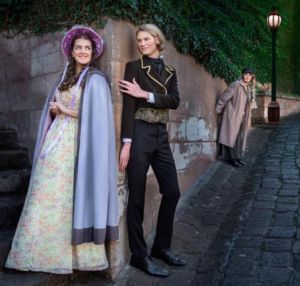 Toby McKenzie stole the show (not just a loaf of bread) as Jean Valjean when he sang crowd favourite 'Bring Him Home'. Toby's velvety voice is very reminiscent of a young Mandy Patinkin. Lachlan Franklin as Javert, Ami Thies as Fantine, Will Howard as Marius and Angela Kenna as adult Cosette all had us captivated by their authentic portrayals.
Kim Gillies delicate, almost pitiful Eponine was totally different from any I've seen before. Her pitch perfect vocals shone during 'On My Own' and her sensitive rendering of 'A Little Fall of Rain' didn't leave a dry eye.
Zoe Borthwick as young Cosette and Jossi Agnew as Gavroche stood out for their naturalness and giving attention to detail in their acting.
Demby McKenzie played a passionate Enjolras, hitting his high notes with ease. It was hard not to watch Harry Price as Grantaire, commanding his brief scenes with his lush baritone voice.
Deon Cameron and Lauren Whitmore's darker, less comedic portrayal of the Thenardiers was a nice change. Musically 'Master of the House' was for me one of the nights highest points, it even sounded French in certain spots.
These two community groups have proved there is strength in numbers by joining forces for Les Misérables. With a production of this high caliber, gaining standing ovations at each performance, one can only dream of what the future holds.
Jonathan Cox