Music: Claude-Michel Schönberg. Lyrics: Herbert Kretzmer. Original French Text: Alain Boublil & Jean Marc Natel. Additional Material: James Fenton. Griffith Musical Theatre 3rd Year Students. Director: Allister Smith. Queensland Conservatorium Symphony Orchestra. Conductor: Peter Morris. Conservatorium Theatre, Southbank, Brisbane. 8-17 August 2019
Griffith Musical Theatre has joined forces with the Queensland Conservatorium to present the largest fully-staged production in the world of Les Misérables. With a cast of 80 and two symphony orchestras it is indeed a grand production and when the company lift their voices in glorious song in "At the End of the Day", "Do You Hear the People Sing" and "One Day More", the result is thrilling musical theatre and brings tears to the eyes. All the iconic show moments are on display including the one step forward, one step back routine in "One Day More" with the red flag waving behind the company at the end of act-one.
Best performance of the night was Conor Putland's Marius. His "Empty Chairs at Empty Tables" had a ton of pathos, whilst the trio of "Heart Full Of Love" with Taylor Yost (Cosette) and Selin Doygun (Eponine) burned with youthful passion. Doygun's "On My Own" stood out as a highlight, as did Jordan Twigg's performance of depth as the tragic Fantine and her singing of the hit song, "I Dreamed a Dream".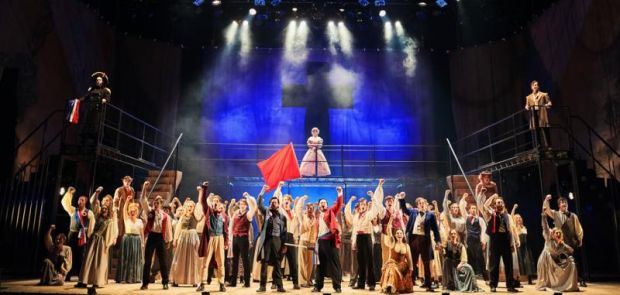 Jean Valjean was double cast, with Jackson Head playing the role in the first half and Zac Parkes doing likewise in the second. Head had more empathy but then Parkes impressed with his "Bring Him Home" vocal.
As the show's heavy, the relentless Javert, Clancy Enchelmaier vigorously wore the 'black hat'. whilst the comedy duo, the despicable Threnadiers, Maddison Coleman and Alastair Blake played big for laughs and got them. With Coleman as a blowsy buffoon Madame and Blake a fop they were audience favourites.
Jack Biggs did double-duty as the Bishop and Enjolras and was very good in both, and the kids, Flynn Nowlan as Gavroche, and Freya Callaghan and Matilda Kelly as young Cosette and young Eponine handled their parts like pros.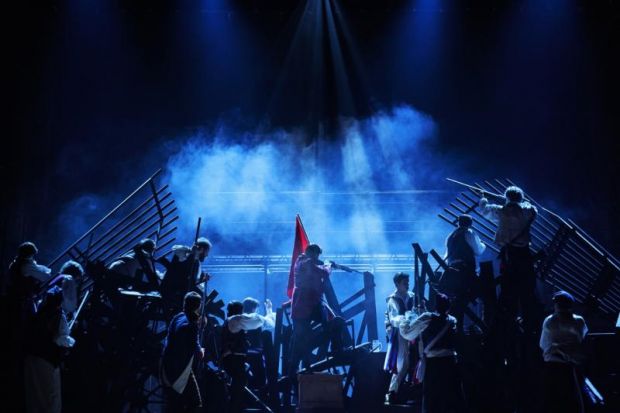 Nathan Weyers set design of mainly scaffolding and two staircase trolleys worked for most of the story's locations, whilst Chloe Greaves costumes were effectively grubby for the downtrodden and sparkled with jewels for the ball scene, all of it encased in a dramatic and moody lighting plot by Nigel Levings.
Allister Smith's production was fast-moving (perhaps too fast at times to catch all of Herbert Kretzmer's superb lyrics), also a fault of the sound balance which in the first-act had the orchestra overwhelming the principals, but Schönberg's score still sounded epic played by a symphony orchestra.
Peter Pinne
Note: The show is double and in some cases triple cast so different performers play at different performances.