Based on the Novel by Victor Hugo. Music by Claude-Michel Schönberg. Lyrics by Herbert Kretzmer. Original French text byAlain Boublil and Jean-Marc Natel. Additional Material by James Fenton. Adaptation by Trevor Nunn and John Caird. Gosford Musical Society. Laycock Street Theatre, October 18-Nov 9, 2019.
There is far too much to say about this production without getting bogged down in plot synopsis. Any theatre nerd worth their popcorn already has a reasonable, if not firm grasp of the plot, even if the actual historical setting of the story is often misconstrued - but I'll let you ponder all that with the aid of Google. This review focuses on the show's mystique.
When it made its debut it was a critical turkey. But the people LOVED it and it went on to become one of the most successful musicals of all time. I saw the 1997 Sydney production, and while I found the initial plot points were elusive in that production – the songs still burrowed into my very soul. It might get me kicked out of the theatre geek guild to admit this, but not only did I love the film adaptation, the sheer clarity of the vocals really cleared the plot for me.
Let's face it, 'Les Miz' is THE bucket list musical. Such powerful lead roles, such inspiring (and fun) chorus numbers and such searing ballads. In theatre parlance, it's one hell of a big sing and everyone wants it on their resumé. It wouldn't surprise me one bit, if the local folklore (in direct relation previous productions of it by GMS) reflected similar phenomena around the world. Having said that, GMS' regard for this show is next level.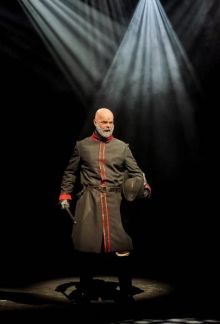 "Our audition process is not near as intimidating as it was in 1993, when we had hundreds of people show up to auditions for our first production of Les Miz." *
That production became the yardstick for everything that followed. Until 2000/1 when that production not only played for an unprecedented, extended run, it actually returned for another season the following year.
Then a debate ensued for the next 18 years over which production was better. This reviewer joined the society in 2002 and would forever rue the fact that I had just missed it. It was all that anyone talked about. (Don't get me started on The Barricade!) I figured I'd get my chance eventually. Who knew I'd move to Sydney the year before the long-awaited amateur rights were once again available?
The upside to that, of course being, I got write this impossibly self-indulgent review. But let's be real. When it comes to any show, every reviewer's opinion is filtered by many things. This review needed all the context for added emphasis.
Why?
Because, darn it all...this GMS' third crack at LAY flipping Miz!
This was also, rather controversially, Darryl Davis' second lash as director, having steered the 2000 production. We're talking community theatre here, the stakes could not be any higher!
So,where to start?
The cast. Former GMS alumni-turned-pro Todd Keys returned, after 14 years away from the society, to effortlessly inhabit the formidably villainous Javert with his booming baritone and a brooding menace befitting the character. However, it's when Javert descends into desperation and madness that Keys really hits his straps. By comparison, with a handful of community theatre leads to his credit, Simon Castle had his work cut out for him in the demanding role of Jean Valjean – and it's no exaggeration to say he hits it out of theatre, clear through the foyer and across the street.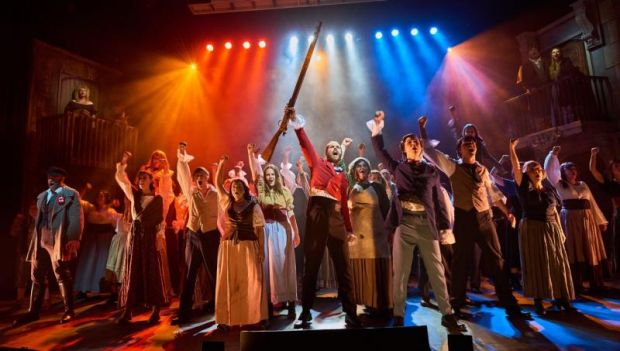 Sancia West as Fantine demonstrates her impressive acting and singing range (having put in a charming turn as Nellie Forbush in South Pacific earlier this year) in this iconically tragic role. Chris Gracia has a ferocious field day with Thénardier, while GMS' favourite, Sally Loughnan, exceeds (high) expectations as Madame Thénardier - injecting just the right dose of malice, while again showcasing her fabulous pipes, and impeccable diction. Ian Fisher also deserves a big mention with his warm portrayal of The Bishop while Scott Russell and Callum Hayes also make their mark.
Far from being overshadowed by their senior counterparts, Teaghan Thompson (Eponine), Addison Morley (Marius), Isaac Ledingham (Enjolras) and Natasha Bass (Cosette) all write their own chapter in future folklore with exceptionally powerful performances from each them. Young Cosette and Gavroche were dual cast, but Ruby McIntosh and Torean Smart must also be singled out. Great futures lay ahead for those two.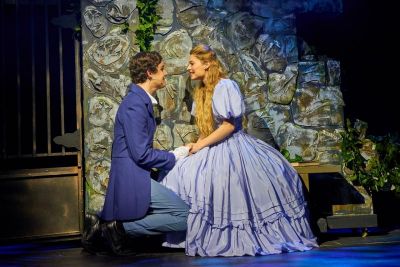 Praise for this production would still be lacking if it was not fully represented by the sum of all of its parts. Les Miz would be a very long and arduous journey without proper atmosphere and measured pacing. Alternating between stark, minimalist staging, evocative spotlighting and more traditionally artistic backdrops, the look and feel of the piece maintains an organic integrity throughout. [Spoiler alert] – Javert's demise is particularly well staged.
As for the orchestra and the ensemble singing and those magical harmonies, it's truly delightful to mention them in the same breath. I'm still waiting for the hairs on the back of my neck to relax, three days later. Kudos too to the sound tech – the awesome volume made my teeth vibrate. Props to the props and meticulous costume design as well.
Now, don't get me started on The Barricade! Actually – this particular scene has to be a logistical nightmare, but snazzy special effects and deft direction and blocking makes this every bit the dynamic scene it should be.
Just for balance, if I had to nit-pick about anything at all, it would be to say, some of the male chorus members' miming in the opening scenes and in some of the fights could use a bit more attention to detail.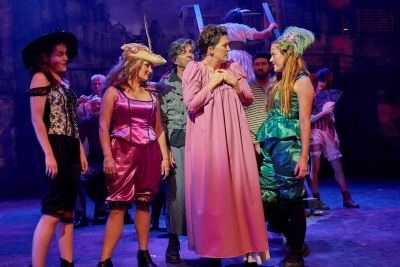 Even without that spine-tingling score; if not for strong performances across the board and a clear vision – Les Misérables could easily descend into chaotic, indecipherable, annoying and overwrought melodrama. It takes a lot of commitment to enable it to realise its full potential and this so-called 'amateur' production goes extremely close to totally nailing it. Again!
Rose Cooper
(*That's a story that gets told at many info nights).
Credits
Director: Darryl Davis
Choreographer/AD: Lauren Miller
Musical Director: Lindsay Kaul.
Costumes: Rhonda Griffiths
Production Manager/pyromaniac: Greg Quoy
Stage Manager: Karen Johnston
Vocal Coach: Joanne McMahon.