Music by Claude-Michel Schönberg. Lyrics by Herbert Kretzmer. Original French text byAlain Boublil and Jean-Marc Natel. Darlington Theatre Players. Directed by Joe Isaia. Marloo Theatre, Greenmount, WA. Nov 15 - Dec 14, 2019
Les Misérables is always a "big" production. Darlington Theatre Players' Les Misérables is a big production of Les Mis. Despite the fact that Marloo Theatre is not a huge space, this production is a behemoth of a show.
Using the full depth of Marloo's stage, Owen Davies' set design is excellent, with a sturdily constructed, multi level fold in and out set that works well for nearly all of the locales. The paving stones are particularly impressive. Shelly Miler runs what feels like a thousand cue lighting design, with evocative lighting that is very empathetic to the performance.
The set houses a 15 member band led by Musical Director Tara Oorjitham, partially visible behind the action. Musically this is a strong show, with sound balance, by Guy Jackson, well controlled.
Costumes are particularly impressive, from the detail in the broken down costumes of the convicts to the excesses of Madame Thenardier at the ball, and are a credit to Marjorie De Caux and her team. Wigs, by Lynda Stubbs, are used to great effect.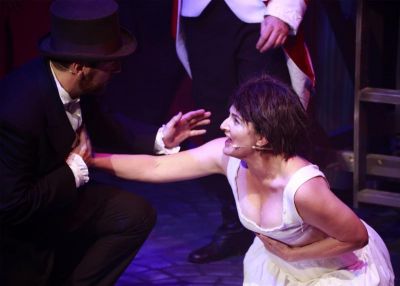 Forty-seven cast members, including a children's ensemble, work hard throughout. Leading the cast is Paul Hayward, reprising the role of Jean Valjean in a solid, well executed performance. He finds a worthy adversary in Javert, played with excellence and great emotion by Chris Gerrish.
Lovely work from the romantic leads, with a stunning performance from Marli van der Bijl as Cosette, working nicely with Nic Millar as an earnest Marius. Charlize Gosnell delivers a beautiful vocal performance as the overlooked Eponine.
Catherine Archer's Fantine has outstanding vocal timbre, while an unmiked Thomas Dimmick as Enjolras brings passion and power. John Taylor's Bishop was particularly notable - a very genuine performance, while the Thenardiers, Cassy Eaton, in her WA debut, Alan Markham, and a cameo from Tahli Redgwell as little Eponine, work well as a team.
Emmy Bekink, as little Cosette, is absolutely charming and could have stepped straight off the iconic poster for the show. Felix Steinwandel's Gavroche is a delight - with lots of personality and strong vocals.
With a credit list in the hundreds, this is a mammoth production with a great deal of heart, hard work and passion, which shows on stage. Technically already sold out, the number of shows means that seats might become available. It is worth trying to get a seat to see the Darlington Theatre Players' most epic production to date.
Kimberley Shaw