By Claude-Michel Schonberg & Alain Boublil. Based on the novel by Victor Hugo. Music: Claude-Michel Boublil. Lyrics: Herbert Kretzmer. Ipswich Musical Theatre. Director: Christopher Bradtke. Musical Director: Robert Clark. Choreography: Ruth Gabriel. Civic Centre, Ipswich. 8-17 September 2017
Ipswich Musical Theatre's production of Les Misérables was top of the range community theatre – thrilling, emotional and exciting. I have rarely heard the show sung as well, nor has there been so much clarity in the story as there was in Christopher Bradtke's concise direction. Bradtke, who's Melbourne based and who recently directed the show for CLOC (who provided the set and costumes for this production), brings his considerable expertise and theatrical savvy to the project.
The musical's big solo set-pieces were sung centre-stage for maximum effect, and with built in applause-buttons after every major number, it was community musical theatre at its best. The effect was so seamless and enveloping that it took me back personally to the first time I experienced the show just after it had opened in London.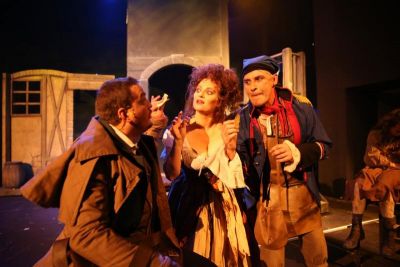 Having operatic voices perform the two principal roles was a coup for the company, which was top heavy with vocal talent. Robert Shearer's Jean Valjean was passionate and tender, giving vocal-heft to "Who Am I?" and the score's immortal "Bring Him Home", likewise Lionel Theunissen's Javert, whose ringing tones sent "Stars" into the stratosphere.
Sophie Salvesani (Cosette) and William Toft (Marius) were the epitome of young lovers, bringing youthful desire to "A Heart Full of Love", whilst Toft's low-key emotional "Empty Chairs at Empty Tables" was achingly effective. Jessica Ham's Fantine was a touch uncertain in the higher register on "I Dreamed a Dream", as was Emily Pluckrose's Eponine with "On My Own", but the Thenadiers (Ian Moore and Carole Williams) were a bawdy delight in "Master of the House".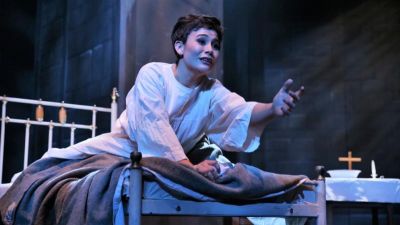 High praise to the chorus, whose vocal harmonies lifted the performance level often, particularly the first-act curtain "One Day More". Sets were traditional, with an impressive barricade that moved, whilst the costumes, ranging from rags to glittering ball gowns, frequently added splashes of welcome colour.
The 14-piece orchestra under Robert Clark's baton sounded almost symphonic, Murray Keidge's sound design was a star (you heard every lyric), and Wesley Bluff's lighting blitzed the stage with mood.
In recent years Ipswich Musical Theatre have hit the ball out of the park with their productions of The Phantom of the Opera, Mary Poppins and Wicked, andLes Miz continues this run of success. Fans of the musical will not be disappointed.
Peter Pinne