The Spiegeltent - Canberra Theatre Forecourt. March 30-April 21, 2019
It's the Spiegeltent. You know you're in for world class slick cabaret, raunchy dance, clowning, costumes, but for me the most spectacular parts of Life: The Show were the surprises. When they attach a couple of grappling hooks to the belt loops Violent Femmes' session sax player and hoist him into the air, and he continues to play while spinning and summersaulting around, it's jaw-dropping. (His name is Blaize Garza and he doesn't miss a beat of Madness' "One Step Beyond", even when upside down).
And that's before we even get to the acrobats, Elke Uhd and Tim Kriegler. These are astonishing performers—I could throw out words like "agility", "control" and "core strength" and not come anywhere close to describing how eye-poppingly awesome these guys really are. They perform an impossibly unlikely routine in a sheet plastic tube. Sure, it symbolises a condom and the acrobats in it are sperm but my God, what these people are doing inside that tube is mindblowing. They ascend, contort, writhe and dance up, down and out the top of this tube, which was probably 8 metres high, using nothing but the friction of their skin on the polythene to keep them from plummeting to the ground. If you want to see an example of human bodily perfection, it would be hard to go past Tim Kreigler.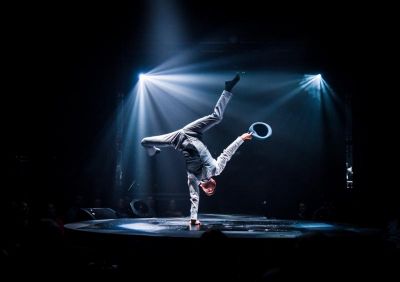 And the rest? Also brilliant. Beginning with a sparkling version of "People in the Front Row" by glorious jazz singer Lee Taylor, the acts follow the rough storyline of an everyman (the very engaging clown Goos Meeuwsen) through the inevitabilities and pitfalls of life including marriage (to similarly wonderful Helena Bittencourt), sex, babies, breastfeeding, and …coke snorting? Oh, yes. The show is not as overtly raunchy as Blanc de Blanc and while there is a moment of full-frontal nudity it's more funny than sexy. The dance is vibrant and exciting: Rechelle Mansour and Elke Uhd are mesmerising and Hilton Dennis breaks into a brilliant tap routine when you least expect it. All of this is to classic rock such as "A Whiter Shade of Pale" and "The Rhythm of Life", with most of the ridiculously talented cast doing double duty playing instruments and singing (notably Rechelle Mansour who nails "Faith" and "Good to be Alive").
Every part of Life: The Show sparkles. It's absolutely top notch sexy, lively, colourful circus fun.
Cathy Bannister
Images: Mik Lavage