The Mother of All Musicals - By Joanna Weinberg. Directed by Lisa Freshwater. King Street Theatre, Newtown. September 6 – 21, 2013
At first blush the journey of a 40 year old woman through the highs and lows of fertility treatment might seem an unlikely subject for a musical.
Yet from this real life drama has emerged one of the brightest new Australian musicals for years, with many a song seamlessly blending words, music and emotion.
Natalie Lotkin plays the leading lady Ruth, a 40-year-old magazine editor who decides to have a child on her own.
The musical was inspired in part by Natalie's own real life struggle to conceive a child. With art imitating life, the production had authenticity and heart.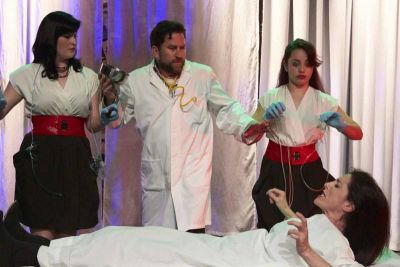 In the musical she chooses a gay friend Joel (Tyran Parke ) to be the donor. He was the stand out star in this musical.
Joanna Weinberg has composed the most gorgeous 'aria' for his character, called a suitable man, which would not be out of place in any smash hit musical.
In the background is her mother (Meredith O Reilly) reminding Ruth that her biological clock is ticking and wondering why she has waited so long to have a baby.
This is infused with South African music which adds warmth to the journey as Ruth seeks to conceive a child and track her own origins.
The technical aspects of the IVF program were dealt with using great humour and different musical flavours.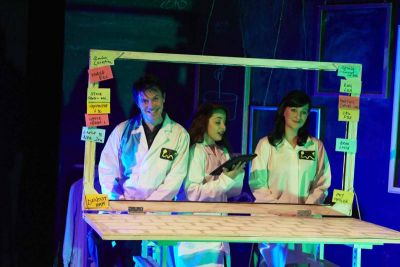 A Doctor in a white coat came on in a scene that was like a stylish version of the Monty Python Every Sperm is Sacred sketch.
Christopher Horsey played Dr Knight. He danced through the medical routine with style.
Aiding the delivery (pardon the pun) was a clever set which used a blackboard and window frames to mark the passing tide and time.
The musical accompaniment, played admirably by Brad Miller on a single piano, was a little on the thin side. It would be wonderful to hear this musical with a small band.
But no one left disappointed from what was a very special night in the theatre.
Bravo to the Australia Council and Robert Albert for sponsoring such a high quality opening for this gem of a show.
David Spicer
IPhotographer: Richard Weinstein.