Adelaide Fringe 2019. Lift Dance Theatre. Brighton Performing Arts Centre. February 22nd – March 3rd, 2019
Since Lift Dance Theatre was established in 2009, Artistic Director Alan Todd has brought his wealth of experience to the group to create original dance works for the stage. Choreographers Phoebe Fisher and Elly Roadnight also perform as dancers within the company.
Premiering at the 2019 Adelaide Fringe, Liften is a celebration of the group's tenth anniversary. Two separate works blended together, Ostium and Immensae, focus on body and human awareness.
A large bare stage with a small pool of light in the centre is a perfect platform for the large troupe to perform. Dressed as they are in form-fitting black singlet tops and shorts, with hair pulled back in braids, we can concentrate on the dancers' form without distraction.
Film score composer Ran Bagno is also recognised for his original music composed for contemporary dance. Most of the soundtrack is made up of his creations. With strong singular beats delivered in rapid succession, the soundtrack shapes the choreography. Beautiful tableaus were created when the whole company was on stage. Timing and acute awareness of the other dancers was essential if the performance was to flow, and for the most part it did.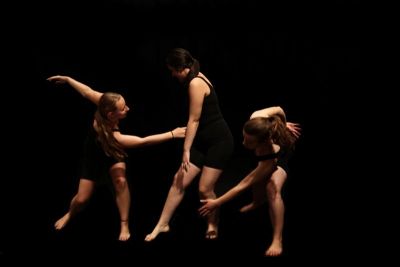 The dancers displayed a united front as they worked though the intense choreography. Pauses were rare. The dancers that kept my focus were the ones that went beyond the movement. Facial expression for some was hypnotic.
The program lasted an hour, highlighting endurance and dedication to the piece. Ostium focussed on the struggle for survival; the need to be constantly evolving. Immensae was a combination of repetition and break-out moments. The highlight came in an almost ethereal portion, where dancers wore flowing white skirts. Aesthetically pleasing, it had me mesmerised.
The beauty of contemporary dance is that it is not constricted by boundaries; only the limitation of an artist's creativity can contain this genre. Bravo to all involved.
Kerry Cooper