Book by James Lapine. Stirling Players. Music and Lyrics by William Finn Directed by Tyler Eldridge, Musical Direction by Tara Oorjitham. Stirling Theatre, Innaloo, WA. Nov 16 - Dec 1, 2018
Stirling Players present (what appears to be) the Australian Premiere of Little Miss Sunshine, in a bright and funny production, that deals with serious themes, but is an uplifting and fun to watch production.
Faithfully adapted from the popular film of the same name, Little Miss Sunshine is a very book focused musical, that due to its origins can be quite filmic. Very challenging for a director, Tyler Eldridge has handled the difficulties with great creativity, with scenes in and around the infamous yellow kombi van handled with aplomb, and a conscious theatricality working extremely well.
This is a show without big production numbers and very little choreography (Celeste Underhill does a great job with the limited dance opportunities). While it is not a "big" musical and only one song, the innocuously titled "Olive's Song" will get stuck in your head, the talents of Lapine and Finn are evident, although this is not their best work. Tara Orrjitham's community theatre musical direction debut is very successful, leading a tight 5 piece band. Vocals, coached by the director, are solid.
Set designer Timothy Tyrie has created a clean, minimalist set that rearranges effectively to create multiple locales, with well chosen projections helping to set the scenes. Lynda Stubbs' costumes and wigs are a triumph, both as a reflection of character with the central family and and the second act (although the show runs without an interval) the glamour of the Little Miss Sunshine Pageant is captured beautifully.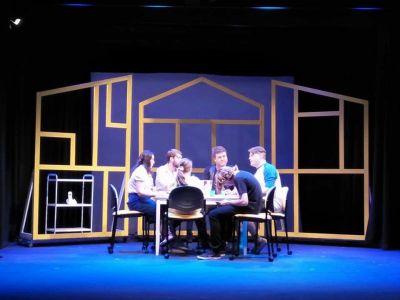 Catalyst character Olive Hoover, whose desire to be in the finals of the Little Miss Sunshine pageant sets the action in motion, is played with depth and understanding by 10 year old Tahli Redgwell. This is her biggest role to date and she anchors the show with professionalism beyond her years. She is nicely supported - especially by David Cosgrove, as her rather wayward, but loving (and loveable) Grandpa.
Parents under pressure, Richard and Sheryl Hooper, are played as a very believable couple by Mitchell Lawrence and Steph Hickey, who handle both the high comedy and deep drama of their roles well. Charlie Martin, unusually for a youth actor, playing older than his age, finds great nuance and depth as son Dwayne Hoover. Timothy Tyrie is excellent as the complex Uncle Frank.
Lovely contrast work from the supporting cast, often playing several very different roles. Katt Nelson is highly entertaining as administrator Linda and Miss California, Zachary Cave gives lovely broad-stroke performances as Joshua Rose and Buddy Dean, while Jordan Jackson chameleons his way through four roles.
There are a handful of gorgeous child performers, some playing Mean Girls who torture Olive's thoughts and later a larger group of fellow pageant contestants. Wonderful work from Keely Crugnale, Emmy Bekink and Skye Colcott (who would make excellent Heathers in 10 years time), as well as Lilly Miller and Chloe Redgwell.
Great to see a fresh new musical, thoughtfully directed and well performed. A great choice for fans of the film, lovers of new work and a great choice to take your friend who doesn't really like musicals, as in many ways, this is much closer to a drama.
Kimberley Shaw