By Howard Ashman and Alan Menken. Shire Music Theatre (NSW). Sutherland School of Arts. August 17 – 26, 2012.
Romance, rock'n'roll, comedy, B-Grade Hollywood horror movie send-up, sado-masochism and a man-eating plant – what more could you ask for in a musical?
Kenney Ogilvie's production for Shire Music Theatre is one of those special little community theatre treats.
What makes this production work so well? Apart from a particularly talented small ensemble cast (including capable puppeteers), a tight, lively production, a terrific rock'n'roll band and a clever, fluidly effective hinged scenic design, the key element was the spot-on comic acting style. Everyone played their strange and eccentric characters, and the crazy situations in which they are placed, with the utter belief that is so vital, never once mugging or appealing the audience for laughs. Their timing, including puppet manipulation, was excellent, too. As a result, the laughs flowed freely and naturally all night.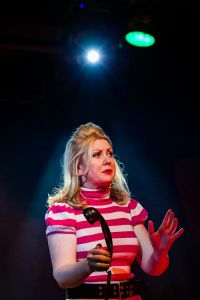 You simply fall in love with Bridget Keating's Audrey; grimace with laughter at Phil McIntosh's sadistic dentist Orin; genuinely feel for Chae Rogan's accident-prone, teddy bear-ish Seymour and shudder at Lloyd McDonald's lugubrious, insinuating Mushnik. Rebecca Gordon, Tanya Boyle and Ellie McAdams joyfully and sassily bop along with their Motown style harmonies and Johnny Acosta rumbles out a sonorous, gravelly Audrey II. Playing all the other characters, Tyler Hoggard creates animated stereotypes.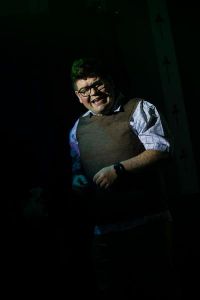 Samuel Larielle's simple, effective choreography seems to blend seamlessly with Ogilvie's direction, while Peter Samson's band … well it 'rocks'.
It's a compact, fast-moving night's entertainment, well matched to this intimate, venerable venue.
My reservations are minor – one with the script itself - it's African American vernacular and inflections sometimes feel peculiar coming from decidedly Anglo cast members; surely there could be a modified alternate version. Technically, the microphone in conjunction with the dentist's gas mask needed a better, clearer solution, as the vocals tended to be badly muffled.
On the whole, though, community musical theatre rarely gets better than this.
Neil Litchfield
Photographer: Grant Leslie.