By Louisa May Alcott, adapted by Peter Clapham. ARENAArts. Directed by Christine Ellis. Roxy Lane Theatre, Maylands, WA. Nov 15-30, 2019
ARENAArts' production of Little Women is a warm, feel-good production that is faithful to the original novel, and is presented with love and care.
Fabulous work from the four leading ladies, who create a believable sisterhood and beautiful characters. Evie Madeleine is a spoilt, selfish and pretty Amy, who still manages to endear herself to the audience and was a favourite of many (matinee audiences can be quite vocal). Bella Freeman is a beautifully tragic Beth, delicate and fragile but with a strong personality. I feared Stephanie Hickey might be too mature to capture the teenage boyishness of Jo, but she does well in this role and gives a convincing and layered performance. Annabelle Eirth is a lovely Meg, showing us the emergence of young love.
Jenny Smith plays Marmee very nicely - a lovely blend of wisdom and care, Julie Holmshaw is strong as family servant and very much part of the family. Hannah. Sally Boteler steels scenes as the formidable Aunt March.
Good support from the men in the cast, three of whom were late replacements in their roles. Peter Giles is a likeable and romantic John Brooke, Paul Anderson captures both the rough exterior and inner softie of Mr Laurence, with Justin Markham making a welcome late appearance as Mr March. Blake Hughes as Laurie looks wonderful in the civil war era costuming and sports a warm smile.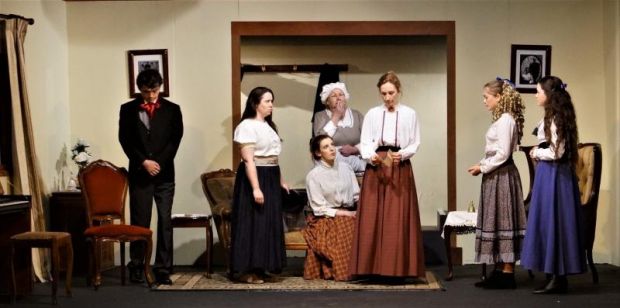 Christine Ellis has been busy in this production, with credits for set design, costumes, props, set painting and set dressing. The set, constructed by Jim Chantry, gives a lovely sense of place. Properties and costumes generally establish the era well, although there are a few anachronisms including modern pegs, q codes on wine bottles and anklet stockings - which are noticeable given the attention to detail elsewhere. Simon James brings care to lighting and sound.
This is a show that warms the heart and is a good choice for all ages in the lead-up to Christmas.
Kimberley Shaw