By Martin McDonagh, Directed by Grant Lepan-Walker. Bakery @ 1812 Theatre. October 11 – November 3, 2012.
1812 theatre is nothing if not eclectic, and it makes some bold choices, (particularly for its performing space The Bakery) which won't suit everyone, but which I find exciting. British born Irish playwright Martin McDonagh is best known for his three trilogies set in Galway Ireland. The Lonesome West is the third play in his first trilogy and it's rarely performed. This may be because of its language and outright (though affectionate) blasphemy towards the Catholic church. It's a very dark comedy, disturbing but hilariously funny.
The cast of four and director Grant Lepan-Walker have made a feast of the action, which centres around the small town of Leenane where despair leads people to kill each other or commit suicide, and the catholic priest is an alcoholic. Coleman Connor has blown his father's head off with a shotgun, because he didn't like his haircut. Elder brother Valene has covered for him, in exchange for 100% of the will. The two brothers fight incessantly. Father Welsh knows the truth, but there's nothing he can do about it, except sacrifice himself in the hope of getting the brothers to take a step back and forgive each other.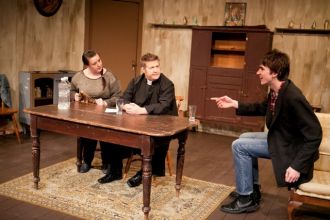 What follows is two acts which, in spite of having little plot, move at a sizzling pace and provide far more laughs than gasps. The cast is exceptional. The depth of talent in community theatre at present is remarkable. Stephen Barber, as the hapless Father Welsh (not Walsh!) is beautifully cast and is both pathetic and poignant, a lovely performance. Karen Bannon, as the hapless Girleen (secretly in love with her priest and selling illegal poitin to raise money to buy him a gift) is endearing throughout. But it's the two young actors playing the Connor brothers who are especially impressive.
Gabriel Bergmoser (Coleman) is a real talent, who has a deep understanding of both text and character, despite having no formal training. He makes Coleman despicable and yet attractive. An expressive young actor, he simply has to rein in some facial expressions and gestures to suit the size of the performing space.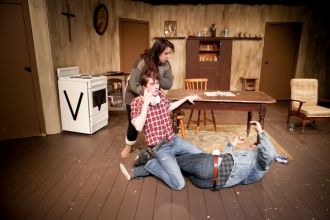 The real revelation is Wayne Stewart, making his first ever appearance in theatre. He's funny, sweet, simple minded, manipulative, and despairing. It's a terrific performance from a newcomer and I hope I get to see him in many more productions.
All four actors handle the Irish accents really well, though they are more generic than specific to Galway. It doesn't matter, we're drawn into the relationships in spite of the accents, not because of them.
The 1812 offers its usual hospitality of sherry pre-performance and supper afterwards. It's a great night out and, to the people who left last night after the first act because they were offended by the subject, the loss was all yours.
Coral Drouyn