By Raymond Hopkins. KADS. Directed by Ken Harris. KADS Town Square Theatre, Kalamunda, WA. Nov 16 - Dec 1, 2018
KADS' production of Looking for Love is a contemporary modern drama that has clear audience appeal, with the feel and style of post war farces - with action that includes hiding the local vicar in the bedroom!
After over twenty years of marriage, Molly Beale is deserted by her husband. Her best friend Fiona talks her into a six step programme for coping after a failed marriage, which leads not only to her husband begging to return, but the complication of two other extremely keen suitors.
Much of the success of this production is due to the likeability of leading lady Cathy Parr, who is very relatable as Molly. A very relaxed performance, this unlikely sex symbol is an inspiration to women and a joy to watch. Karin Staflund is glamorous and commanding as Fiona, giving unhelpful advice, which bizarrely - works.
The trio of lovers are a great contrast to each other. Jason Millman plays repentant husband James, David Gribble is convincing as an initially slightly uptight Reverend David Thomas, while Steven Ozanne has fun as massage artist and willing toy-boy Steve Miles.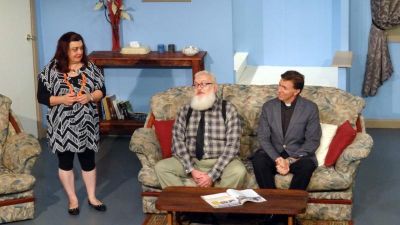 In supporting roles, Sage Lockyer makes a promising community theatre debut as Molly's daughter Claire, Christine Gribble is solid in her first on-stage role as parish stalwart Lyn, Julie Holmshaw creates a lovely journey for busy-body neighbour Nancy and Charlie Schimer makes welcome appearances as friend Paul.
The living room set, created by a team led by director Ken Harris, is clean, solid and functional, with lighting and sound nicely handled.
While the flow of the show isn't always perfect, not all of the relationships are convincing, and there are some occasional line hesitancies, this was a show that entertained and was very warmly received.
A great choice for a girls' night out, and for lovers of old and new comedy. There is a feel-good element to this as well. Writer Raymond Hopkins donates all of his royalties to Mutliple Sclerosis research, so you can have a night out, knowing that you are supporting a great cause.
Kimberley Shaw