By Craig Parris. Ruby Productions. John Lees Centre, Penrith (NSW). October 12-25, 2013.
Ruby Productions is a relatively new theatre company in Sydney's west, which aims to provide quality productions and opportunities for experienced and aspiring actors, directors and crew members. Their latest offering, a pantomime with the comically long title, Lost Socks, Love and Lollipops in the Court of King Caractacus, is a delight for families and at $20 for kids, and $25 for adults, and is a reasonably priced couple of hours entertainment. Nowhere, however, on the group's website are the words 'community' or 'amateur' mentioned; they appear to be presenting themselves as a professional theatre company, which is misleading based on the quality of 'King Caractacus'.
Craig Parris in the titular role is natural, engaging, vocally strong and was well loved by the kids in the front row. His performance felt a little low in energy for a pantomime, but this is unsurprising given he was also the writer of the show and possibly suffered from a double whammy of nerves on opening night. Benjamin Roorda as Prince Eric was a crowd favourite, loved by the kids and adults for his vocal and physical antics. Scott Bolas, playing Alfred, was the standout performer of the show, for his vocal and physical characterization, and his ability to improvise, an essential tool with an audience of children. The female leads, Laura Hodge and Nicole Hulett, as Queen Saffira and Princess Carina respectively, fell short vocally, but portrayed their characters and the story appropriately.
There were a few moments that didn't sit particularly well, namely a member of the stage crew moving sets in high heels, the opening speech being delivered in darkness until a rogue spotlight appeared towards the end, and a few occasions of corpsing from the cast. All of this can be put down to inexperience and can be forgiven as opening night flaws. The production has a couple of weeks to find its feet, and it surely will.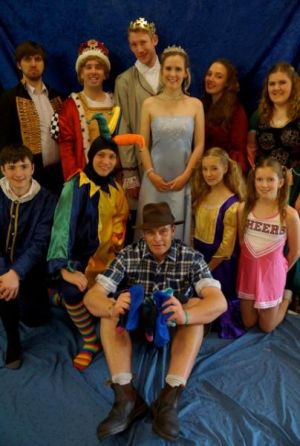 The set design is a comic combination of cartoon, glitter and fairy tale, which is appropriate and aesthetic, but the set itself is limiting and takes up a large amount of the stage unnecessarily. The reflection of the stage lights on glittery flats made for some uncomfortable moments as an audience member. The venue itself is not built for such an interactive production, but the performers worked incredibly hard to engage the crowd, and even managed to pull a number of people up for a dance at the end.
King Caractacus is Craig Parris' first writing venture and, on the whole, he has created a successful children's show. The plot is strong, the characters accessible but with depth, and the songs catchy. The show suffers from first-draft syndrome in that it needs many cuts to make before it is ready to be passed on as a solid script, but that is to be expected of a first run. At 2 hours with interval, the show feels on the long side. It will surely tighten up over the course of the run, but the musical numbers are far too long, it features more ballads than would be expected, and there are a number of extraneous characters that serve only to clutter up the stage and draw out the length of scenes. That being said, the production features all the hallmarks of a great pantomime; singing and dancing, cross dressing, audience participation, slapstick and topical humour, although seemed to be lacking in crude jokes for the adults.
Advertising for the show is lacking; it is impossible to find a price for the tickets until you go through a few stages of the booking process. This is surely an innocent mistake, but comes across as a disingenuous marketing technique. Hopefully the company, only in its fledgling stages, will refine these things for shows to come.
This production is far from perfect, but will the kids love it? Yes. Is it inexpensive? Yes. Is it produced with energy and enthusiasm? Yes. Certainly worth checking out if you're in the Penrith area.
Jessica Lovelace