By Finegan Kruckemeyer. Fringe World. Directed by Alexa Taylor. Kaos Room, The Blue Room Theatre, James St, Perth WA. Jan 28 - Feb 1, 2020
Finegan Kruckemeyer's Love is a warm and fun production, set in a small town, with a plethora of wacky characters and a lovely message about love.
When a huge storm threatens the coastal town of Mellingong, residents are asked to evacuate to the Town Hall, taking only their most prized possession - the things Oslo's Mum calls love luggage. Twelve year old Oslo, community minded at all times, sets out to ensure that the residents' love luggage is safely transported to the Town Hall, and learns a lot about love on the way.
Courtney Henri, an adult woman, embodies a twelve year old boy so well that I would not be surprised to see her in my classroom next week – a beautiful depiction of early adolescence, awkwardness and enthusiasm. Producer/performer Katie Keady is outstanding as Oslo's quirky, hippie, milk-float driving mother - a lovely warm and clever performance, and a perfect vehicle for her talents. Many of the loveable and quirky residents of Mellingong are created with great teamwork by Holly Meegan and Mararo Wangai, with some lovely broad-stroke characterisations and heart-felt story telling.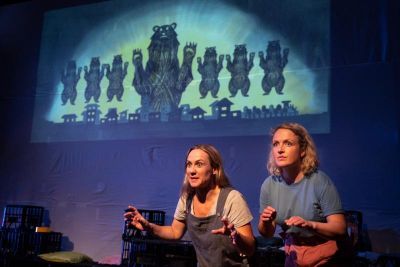 The town on Mellingong is expertly created with Clare Testoni's set design - dominated by milk crates and allowing the storage of a myriad of prop and costume pieces to allow some rapid costume changes. The centrepiece is a wonderful AV design, with cartoonish flair that helps us fall in love with this imaginary town. Rowan van Blomestein's lighting design helps us to enter people's memories and with David Stewart's sound design provides the threat of the imminent storm.
The audience ranges from tiny-tots to the elderly, and all appeared transfixed by this simple but very touching story. A show that pulls at the heartstrings and offers hope for the future. A great choice for all ages.
Kimberley Shaw